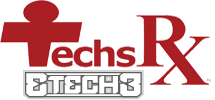 This Halloween-inspired home surveillance report will help keep homeowners who are concerned with potential issues that may arise with strangers coming to their door to understand the importance of a home security system.
Albuquerque, NM (PRWEB) October 29, 2012
Halloween is at hand and is the second most commercially celebrated holiday in the world second only to Christmas. A study done in Boston in the years 2006 to 2009 showed that the three days of the year with the highest violent crime rates are January 1st, July 4th and you guessed it October 31st, Halloween with the highest violent crime rates between the hours of 6pm and 12am. These kind of statistics leave many businesses and homeowners concerned for their property and most parents and families highly concerned for their children's safety. The professional surveillance experts, TechsRx at ETECH3.COM have announced a new, free Halloween inspired security offer. This comprehensive free, two part safety review offers practical, easy to understand advice for safe Halloween "Trick or Treating" for the kids and safety tips for parents while out and about including home security while you're away collecting candy, costume photos and especially those Halloween family memories. Part two includes information that will guide home and business owners through protecting their property from vandalism and burglary. With crime rates being so high on Halloween the local authorities can be busy making it time to put technology to work and be your eyes and ears.
Along with the free Halloween Safety Report, TechsRx at ETECH3.com is offering a clever and affordable way to check in on the house while away with a Plug-n-Play, Network, IP Video Camera with Color Day/Night, 2-Way Audio, SD Card Recording that allows you to record and view live footage and listen to the audio via any iPhone, iPad or Android smart phone with Internet access. This DIY camera can also double as a baby monitor or device for watching and speaking to your pets while away from home. For businesses and homeowners that require more options TechsRx at ETECH3.com offers a very affordable and innovative 4, 8, or 16 Channel, Color Day/Night Camera, Embedded, Plug-n-Play DVR Surveillance system featuring the award winning and very easy to use, Unisight Monitoring Software which also allows remote viewing from any computer and most mobile devices. These state of art surveillance systems are perfect for nights like Halloween to promote safety and bring peace of mind. The company is offering a promotional discounted price with Promotion Code and Details included in the Halloween Safety Report available at their website for free.
To find out more about the company and all of their security, surveillance systems and features, visit them online at http://www.etech3.com. To find out more about Halloween safety and security for your home and business on the this holiday visit http://www.etech3.com/halloween-holiday-safety-and-security-i-20.html?free-halloween-safety-report.