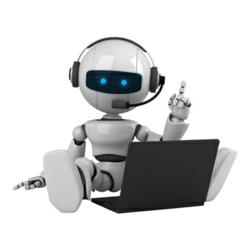 Now everyone can train her own robot to answer any questions.
Sunnyvale, CA (PRWEB) August 21, 2012
Today more and more online businesses adopt live chat robot to serve customers better but they find training the robots to give accurate answers about their products are time-consuming and expensive. To address this issue, Acobot released a chat bot that will cut the time of training one of these virtual helpers immensely.
Many AI professionals use Artificial Intelligence Markup Language to train robots. AIML is an XML dialect created by Richard Wallace with the assistance of a free software community. Since AIML was published under the GPL for anyone to use, it is one of the most popular AI chat languages used by professionals who train chat bots for Internet business sites.
In order to achieve conversion rate optimization, businesses need a chat bot that is well trained and can recognize a wide array of questions and statements. Until recently, training such a robot required a great deal of knowledge in either AIML or another programming language. An average individual may only be able to train the simplest of robots with the free AIML resources, and gaining the bare minimum of knowledge to do this is time consuming. A live chat robot for live support must know much more than a simple bot does, so most Internet business owners hire professionals to design personalized chat bots.
Although professionals know what they are doing, their job of language programming can still be complex even for them. Learning the AIML dialect enough to create a high-quality chat robot requires extensive training. Categories are the main knowledge units of AIML, and each category contains various patterns and templates. They may also be called topics and categories.
A pattern covers a wide array of questions with similar simple syntax structures. With this model, one root sentence structure could ask several questions by substituting various nouns in the pattern. A template is used in the same way, but it structures a response that is variable. Basic AIML is much less complex than natural verbal expressions, which include non-traditional phrasing.
In an attempt to remedy the problem of chat bots only recognizing simple language structure, the ELIZA system was formed by Joseph Weizenbaum in the 1960s. This system represented a Rogerian psychotherapist, and it led to the creation of two other enhanced systems: Elizabeth and ALICE. Elizabeth was designed to make recognition more flexible. The adaptable Elizabeth program is designed to recognize specific keywords, and it allows users to create a different response for each question they create.
The ALICE system was and still is the more popular format between the two programs stemming from ELIZA. It stores information about natural English dialogue elements in the form of AIML files. The system allows users to split two sentences and incorporate the same answer, but the Elizabeth program does not offer this feature. Elizabeth's rules are much more complex for input methods.
The actual process of training a robot and inputting data involves several categorization steps and test processes. It is a very precise science that takes a considerable amount of time, and that complexity is compounded when trainers focus on making recognition more adaptable. Acobot's new system eliminates these complex tasks and makes chat bot training a process that any person can do.
"Live chat robots are becoming features that every company wants," Vic Duan, , the Acobot founder and CEO, said. "We understand that each company sells different products and has unique needs, so our new robot makes it easier for them to customize their dialogue without hiring a professional." The representative also explained that professional training is costly and time consuming, and the combination of these two factors may prohibit some businesses from investing in their own personalized live chat robot.
"The training process is cut into three simple steps," explained Vic Duan. "After signing up and logging in, a user simply asks the robot a specific questions and types responses to those questions. It's that simple." Acobot's live chat robot with this new feature has just recently been made available to the public. For more information, check http://www.acobot.com