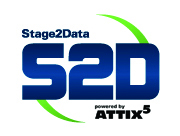 A company can go out and pay over $50,000 for an on-site appliance or they can choose our UDPsb Edition and pay less than $10,000.
Oakville, Ontario (PRWEB) March 12, 2012
Last week Stage2Data launched their Ultimate Data Protection (UDP) plans aimed at making disk2disk and cloud based data backup and recovery more affordable for small business. Today they introduced their Ultimate Data Protection: Small Business Edition (UDPsb), the first edition to be launched under their new UDP umbrella.
This edition, according to Stage2Data CTO Jacques Swanepoel is "an on-site appliance with enterprise caliber data backup and recovery features and almost unheard of pricing that starts at less than $10,000."
Jeff Collier, president of Stage2Data emphasizes that their newly launched UDPsb Edition is ideal for businesses that have less than 6 TB's of data. One of the most surprising aspects of the UDPsb edition is its price tag. Collier elaborates, "A company can go out and pay more than $50,000 for an on-site solution or they come to us and we'll deliver the same protection, feature for feature, at a fraction of the price. It's what small business told us they wanted. We listened and delivered."
Swanepoel echoes Colliers sentiment about how their new UDPsb Edition came to be, "Our teams heard over and over again that some businesses want to control their own data, on-site. It's not that they didn't like the Cloud, it's that they wanted an on-site solution. So, in direct response to what the industry was telling us - we went to work to create an enterprise caliber on-site solution that is affordable in this climate of shrinking IT budgets."
In summary Collier says, "I'm excited about what our UDPsb is going to do for small and medium sized business. I mean, these guys are competing in tough markets and are facing increasingly strict regulations and compliance issues. Most of them have less than 6TB's of data, but they have the same challenges as enterprise with budgets a fraction of the size. I'm proud to introduce a solution that respects small business desire for an affordable on-site solution at a price that's affordable."
The Stage2Data UDPsb Edition, powered by Attix5 offers everything small businesses are asking for: Deduplication, automation, the strongest level of encryption, robust reporting, substantially faster backups and safe, secure and instant-access to data on-site when its needed.
Company Stage2Data
Stage2Data is a privately held company founded by Jeff Collier and Jacques Swanepoel in 2008. The company is dedicated to working with Enterprise and SMB's to safeguard their data against disaster or loss using cloud based, disk to disk technology. Stage2Data is the Master Distributor for Attix5 in North America and is a recognized leader in backup and recovery. Stage2Data is headquartered in Oakville, Ontario with offices in the USA. For additional information about the company, please visit http://www.stage2data.com.