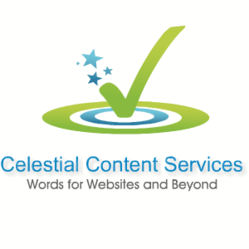 Words for websites and beyond... by an experienced website content writer with over 5,000 completed projects.
San Diego, CA (PRWEB) September 18, 2012
Celestial Content Services, a website content writing service, was created this summer as a limited liability company in California by a writer who has been successfully freelancing since 2006.
According to a spokesperson for Celestial Content Services, the company's name is inspired by the owner's pen name, Celeste, who has completed more than 5,000 writing projects over the past six years.
"The pen name became a brand in its own right," the spokesperson said. "We wanted to tie into the name with the formation of the new company, yet allow the new company to grow on its own merits. At the same time, website content writing for other businesses is more of a work-for-hire service. It rarely involves the use of bylines and pen names."
In addition to forming the LLC, the content writing business has launched a website and is working on its Facebook page - in between client work. The spokesperson explained that while the company name and newly formed LLC status are new, the business has been operating as a sole proprietorship for over six years and has a steady clientele.
The company offers a number of content writing services to small and medium-sized businesses, primarily focused on website content such as: content for websites, product descriptions, articles, newsletters, blog posts, press releases, eBooks, email messages, and white papers.
The website content writing service covers a variety of business and lifestyle topics including real estate, construction, automotive, insurance, legal, technical, finance, healthy living, women's health, and more.
Regardless of format or topic, the Web content writer writes all content to order based on each client's unique website content needs.
Celestial Content Services' spokesperson said, "We understand the challenges that small and home-based business owners face in marketing their businesses. We also understand that not only are our clients pressed for time in general, the thought of writing informative and engaging website content often proves to be overwhelming. We're able to ease their minds and take over the task."
About Celestial Content Services LLC
Celestial Content Services was created by a freelance content writer who has been writing online since 2006. "Celeste," the inspiration behind the celestial business name, quickly became one of the top-selling writers on a popular website content marketplace. She has written and sold nearly 4,000 projects on that site alone as well as over a thousand more for private clients. Writing isn't a hobby; it's a passion – and it's a full-time endeavor.
Learn more about Celestial Content Services by visiting its new content writing website or visit Celestial Content Services on Facebook.