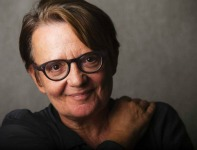 A must for any emerging writer or producer who needs to learn how to pitch their project to funders and industry professionals.
Washington, DC (PRWEB) October 26, 2012
The Women in Film and Television International (WIFTI) Summit will be held November 30 - December 2 in Washington, DC, sponsored by Women in Film & Video (WIFV). Kicking off the event is a November 30 screening of the film 'Europa, Europa' at the DC Jewish Community Center. The film's writer/director Agnieszka Holland will be in attendance. 'Europa, Europa' received a Golden Globe and an Oscar nomination for Best Adapted Screenplay for Holland. An important figure in the Polish New Wave cinema arena, Holland creates films that are both deeply personal and often provide an unflinching look at world events.
The night before, November 29, will be WIFV's 19th annual Women of Vision Awards. In addition to Holland, three other women are being recognized this year for their creative and technical achievements in media: Shirin Ghareeb, Director, Arabian Sights Film Festival/Deputy Director, Filmfest DC; Margaret Parsons, Curator, Department of Film Programs, National Gallery of Art; and Christine Weber, VP of Production for Specials at Discovery Channel. The Women of Vision event will be held at the Mayflower Renaissance Hotel in downtown Washington, DC. Tickets are available at wifv.org/wov.
The WIFTI Summit commences November 30 with representatives of nearly 40 WIFTI Chapters coming together for an educational schedule of panels, seminars, screenings and networking opportunities. The preeminent group for women in film, WIFTI chapters span five continents and comprise more than 10,000 members. Judith Snyderman, Co-Chair of the WIFTI Summit, says this year's event is "a must for any emerging writer or producer who needs to learn how to pitch their project to funders and industry professionals."
Summit workshops will instruct attendees on how to take the initiative in the media business and will offer practical education in the craft of producing programming, successful feature film screenplays, game development, and garnering financial backers. Summit attendees also receive access to WIFV's premier writers' and filmmakers' conference, ScriptDC. Speakers include top Hollywood-rated script consultant Dara Marks, 'Doc McStuffins' creator/producer Chris Nee, network development consultant Laurie Scheer, and producers Mary Jane Skalski, Lauren Versel, Chip Hourihan and others. Says Nee, "I'm always excited for a chance to talk about creating strong female characters for the screen."
Registration is open to all, with options ranging from day passes (US $145 for WIFTI Members; US $195 General Public) to full conference attendance (US $375 WIFTI Members; US $495 General Public). Along with ScriptDC access, Summit pass holders receive a discount code to the World Congress of Science and Factual Producers. Register online by Nov. 16 for the WIFTI Summit at http://wifv.ticketleap.com/wiftisummit and attend this important event dedicated to the role of women in film and television: past, present and future.
Sponsors of the Summit and ScriptDC include: Centric TV, Interface Media Group, Hollywood Foreign Press Association, Center for Social Media/American University, Center for Environmental Filmmaking/American University, Creative America, Hillmann & Carr, Media Central, TeamPeople, Vitec Videocom, Children's Media Association, Rock Creek Productions, PBS, Pixeldust Studios, Sally Hansen, Eastman Kodak, American Airlines, Amtrak, Courtyard Embassy Row by Marriott, and Holiday Inn City Center. For more information about becoming a Sponsor and to receive a sponsorship package, go to wifv.org/wiftisummit.
About WIFV DC
Women in Film & Video DC (WIFV) supports women in the industry by promoting equal opportunities, encouraging professional development, serving as an information network, and educating the public about women's creative and technical achievements . Our resources, connections and advocates support a vibrant, creative media industry. More info at wifv.org.
About WIFTI
Women In Film & Television International (WIFTI) is a global network comprised of some 40 Women In Film Chapters worldwide and more than 13,000 members dedicated to advancing professional development and achievement for women working in all areas of film, video, and other screen-based media. More info at wiftichapters.org.
#WIFVDC