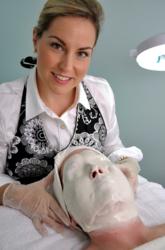 Newport, RI (PRWEB) March 16, 2012
Beauty maven Sara Schieff-Ross, owner of Archbeauty Skin Care Salon & Boutique, has been voted by DAYSPA magazine as America's "Top Entrepreneur" of 2012.
The "Top Entrepreneur" award honors a spa owner who has made exceptional business strides under competitive and challenging circumstances. Sara's challenging circumstance? Opening a successful small business in June of 2009, right in the midst of our nation's Great Recession. In the January 2012 DAYSPA article, Sara credits Elizabeth Arden with giving her the courage to start her own skincare spa. She said, "She's one of my all-time idols. She actually expanded her business during the Great Depression."
Archbeauty was recently named "Best One Stop Skincare" in the RI Monthly "Best of 2011" issue, but DAYSPA's "Top Entrepreneur" is Sara's first individual honor. "I am so proud of Archbeauty," says Schieff-Ross. "Hard work, passion, honesty and staying true to the client are what Archbeauty is all about. I'm honored that DAYSPA, my team's "go-to" trade magazine, has recognized what a labor of love Archbeauty has been. What an amazing feeling!"
Sara has been in the beauty industry for nearly 20 years; she began as a teenage makeup consultant at Filenes, continued on as a successful esthetician and has built, managed and operated spas on the east and west coasts. She has become not just a popular business owner, but also a well-known industry expert in Southern New England. The media has sought her beauty and skincare advice, featuring her tips in publications like Newport Wedding Magazine, Newport Mercury Magazine and on FOX Providence's The Rhode Show.
About Archbeauty Skin Care Salon & Boutique
Archbeauty is a full service skin care salon located in the heart of Newport, Rhode Island and focuses on skin care wellness, services and related products to promote superior skin health. Services include facials for women and men, waxing, makeup applications, eyebrow shaping and cleanup, bridal parties and special occasions. Archbeauty also offers a full retail line of products, including Smashbox Cosmetics, G.M. Collin, Skinceuticals and Colorescience. For more information, visit http://www.archbeauty.com