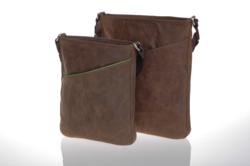 "Get a head start on your holiday shopping at sfbags.com, and you'll find a case to protect every gadget under the sun—all made locally in San Francisco," promised Gary Waterfield, company founder.
San Francisco, CA (PRWEB) November 24, 2012
WaterField Designs, an innovative leader in custom laptop sleeves, and designer bags and cases for digital-minded professionals, announces its Top Ten Cyber Monday gift ideas for family and friends. All WaterField Designs products are designed and manufactured locally in San Francisco.
Cases that double as shoulder bags
The Indy ($169-$179). This slender, handsome bag is cut just right for toting the iPad or iPad mini anywhere. Made of buttery soft leather, it can easily go from cafés to business meetings. Thoughtfully-placed pockets keep accessories organized and the bag slim.
The Muzetto ($149-$259). This modern bag is sized for tablets, e-readers, iPads, the 11-inch Macbook Air and a range of laptops. Choose from naturally-tanned, supple leather or weathered waxed canvas for a rugged outdoorsy look.
A business briefcase without pretention
The Cozmo ($169-$189). The Cozmo has been a hot seller since it was first introduced. Sporting WaterField Designs' signature ballistic nylon with Indium™ or leather accents, the Cozmo can fit a laptop, MacBook or tablet plus files and other necessities. It is smartly designed to keep its shape whether full or empty. Off-set D-rings auto-balance the load, and a removable suspension creates a "weightless" feel.
A tote that can come to work
The Outback Tote ($149-$159). The muted tones of vintage waxed canvas with burnished leather make this all-in-one bag a popular choice of male and female travelers alike. The Outback Tote easily holds laptops, headphones, and magazines in the open chamber and passports and foreign exchange in the zippered side pockets. It's the perfect carry-on.
Custom-fit MacBook Air Cases
The Macbook Air Smart Case (start @ $79). The straight-forward, clean-lined design offers hard-core protection without the bulk. Multi-layered padding keeps the MacBook Air snug and secure, yet quickly accessible. A low-profile stretch pocket holds adapters and cables.
The CitySlicker (start @ $129). The svelte CitySlicker combines soft distressed leather with ultra-durable black ballistic for a refined urban look. Three layers of protection—an impact-resistant insert, high-grade neoprene, and a padded liner—keep the MacBook Air or Retina safe and snug. The CitySlicker is a MacBook Air case with panache.
Keeping an eye on the iPhone
The iPhone Wallet ($39). Having both a wallet and an iPhone in pants pockets is cumbersome; the iPhone Wallet holds both in one compact case. This slim leather wallet includes a clear front window for viewing messages, emails and texts.
Classic SleeveCases cradle laptops and tablets
The SleeveCase (start @ $49). A water-resistant, ballistic nylon shell envelops shock-absorbing neoprene for ultimate protection. Choice of trim color, horizontal or vertical case orientation, optional d-rings and strap, and Piggyback accessory pouch. Over 100 custom laptop sleeves to fit every laptop on the market, because when it comes to protection—size matters.
Keyboard case protection (start @ $15)
Keyboards on the go need protection, too! WaterField's keyboard case line includes: the Keyboard Travel Case, Keyboard Travel Express, Keyboard Sleeve, Keyboard Slip and the Keyboard Socket.
Plush cases for the iPad and iPad mini (start @ $15)
WaterField offers an array of protective iPad sleeves and case-bag hybrids: the iPad Smart Case, the iPad Ultimate SleeveCase, the iPad EXO SleeveCase, the Outback iPad Sleeve, the iPad Slip Case, the iPad Suede Jacket, the iPad Travel Express, and the iPad Wallet. Each style offers unique functionality.
Pricing & Availability
All products are available now at WaterField Designs' on-line store: http://www.sfbags.com.
---------------------------------------------------------------------------------------------------------------
About WaterField Designs
WaterField Designs manufactures custom-fitted, high-quality cases and bags for a full-range of laptop computers, cameras, and other digital gear. All products are manufactured to exacting standards entirely in San Francisco. More information at the SFbags.com website About Us tab.
WaterField Designs™, Indy™, Outback Tote™, Muzetto™, Cozmo™, Smart Case™, CitySlicker™, SleeveCase™, Ultimate SleeveCase™, EXO SleeveCase™, Outback Sleeve™, Suede Jacket™, & Travel Express™ are trademarks of WaterField Designs. Other company/product names may be trademarks of their respective owners. Copyright 2012. All rights reserved.