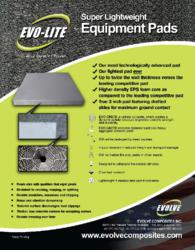 The Evo-Lite pad is the game changer for them, delivering the durability and confidence that true concrete delivers and the user friendliness they need.
Columbia, MD (PRWEB) November 30, 2012
Evolve Composites' unrivalled product line continues to show sales growth even as the holiday season continues. "We continue to strive for added value and innovative solutions with the pad products we introduce," said Evolve's Rick Mabry, Director of Sales –HVAC, Pool and Plumbing. "These products are not just pads; these are the answers to what the HVAC professional has been asking for. We provide pads that meet their needs, are user friendly, innovative and performance driven at a great price with no sacrifice of quality," said Mabry. "It isn't just a pad, but the true 'base' for one of the largest and most critical investments made on most homes today, the home comfort system. We believe when all things are equal in this competitive unitary landscape, Evolve HVAC equipment pad products offer the distributor and the contractor clear differentiation and value points they can demonstrate and provide to their customers."
Evolve's family of HVAC products have quickly become the industry standard thanks to their innovative features, attributes and quality construction of their pad products. "Evolve Composites continues to be the leader in the technology aspect of its products as well as the technical support aspect. We continue to maintain engineering and technical support documents that are brand specific and product related. All these resources are geared for the equipment brands our customers choose to work with and partner with," said Mabry. "We take this responsibility quite seriously and we always will."
Known for establishing industry trends and standards, Evolve Composites and their family of pad products are perfectly tailored for any HVAC equipment or utility application. "The introduction of the Evo-Lite ultra lightweight condenser pad has been well received by distributors and contractors throughout North America," Mabry explained. "Once contractors get this pad in their hands they are in complete disbelief at how lightweight and durable it is. The Evo-Lite pad is the game changer for them, delivering the durability and confidence that true concrete delivers and the user friendliness they need. This ultra lightweight concrete pad delivers an HVAC pad with the strength and look of concrete without any sacrifice of performance or ability." Evo-Lite is constructed using Evolve's proprietary blend of lightweight concrete and a high density foam core, which deliver excellent strength and weight bearing properties. Evo-Lite also features full concrete corners and thicker critical wall and surface structures. The Evo-Lite architectural grade foam core is designed to repel pest such as termites, adding further distinction and value points to end users, including the end consumer.
Continuing to lead the way in the plastic market is Evolve's Polyslab Equipment Pad. The Polyslab delivers a multitude of benefits, starting with its unique nesting ability which allows for 31 pads to stack on a pallet, saving contractors and distributors valuable floor space. This positions Evolve Composites as an innovator in solutions that consider all partners in the chain: warehousing distributor and installing contractors. This is in addition to the overall product performance features, capability and value it delivers to the end user.
Lending more possibilities to the ever versatile Polyslab is the PolyconX pad connector. The PolyconX is specifically engineered to enhance the capabilities and flexibility of the Polyslab. The PolyconX allows the end user to join multiple Polyslab bases together securely, forming an even larger base footprint. This gives distributors and contractors tremendous flexibility and sku rationalization opportunity. The PolyconX will allow a single person to create much larger HVAC pads specifically for the vast packaged unit market, but can be used for any application. "It is a product that is in demand and has been needed for quite a while. We are the first to introduce such an innovative solution to the package unit and large footprint unitary product markets of HVAC. We are excited to be exhibiting its impressive capabilities at the 2013 AHR Expo in January as well," Mabry said.
Completing the lineup of innovative solutions for Evolve Composites HVAC Equipment Pads is:
** Evo-Crete – the full FRCC concrete based pad. With maximum toughness and durability, Evo-Crete delivers heavy duty performance while maintaining its aesthetically pleasing appearance and user friendly weight qualities that equal up to 1/3 the weight of traditional aggregate based concrete pads.
** Evo-Slab – the high performance pad with the heavier weight qualities of the Evo-Crete, but at an even greater reduced weight attributed to its high density foam core. This innovative core design allows for the Evo-Slab to be drilled into while still providing maximum strength and thickness at the critical corner areas and sidewalls while utilizing the same pest repelling attributes as the Evo-Lite.
** Mod-Pad – the modular design that allows pads to be built in modules of 12x36x4 as opposed to full slab configurations. The Mod-Pad is installed by placing the desired number of modules together flush, inserting 3/8 galvanized threaded rods through the series of built in joining channels, and finally securing at the ends with galvanized or stainless steel nuts and washers.
** The Evo-Crete, Evo-Slab and Mod-Pad have signed and certified engineering documents available for contractors and distributors in markets where strong wind codes are in place, particularly the state of Florida.
The Evolve family wishes to extend a joyous and happy holiday wish to our new and existing customer partners and their families. Evolve will be showcasing all of these pad products and other items of innovation at the 2013 AHR Expo in Dallas, Texas January 28-30 at Booth 3988.
Evolve Composites is a Columbia, Maryland based company with manufacturing facilities in Hancock, MD; Pompano Beach, FL; Irondale, AL; distribution center in Tampa, FL, a Home Improvement and Building Materials sales office in Mooresville, NC and a sales, marketing and distribution office in Houston, TX.