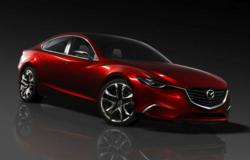 New car shoppers are interested in what car manufacturers have in store for the 2013 model year.
Torrance, CA (PRWEB) April 05, 2012
autoMedia.com, a trusted source for new car buying, research, and reviews, is featuring the new car models on display at the New York Auto show in a 2012 New York Auto Show Photo Gallery, together with daily blog posts detailing their debuts. With the automotive industry reporting the best monthly performance in almost four years, and a much anticipated surge in new car sales this season, consumer interest is piqued to see what car manufacturers have in store for the coming year. The 2013 models are crowding the convention floor with several new models making their first-ever auto show appearance and many new redesigns of long-time favorites.
Ford resurrects the Explorer Sport model designation for 2013 that truly delivers on the performance claim, unlike similarly named versions in past-generations. This premium model will aim squarely at the Dodge Durango R/T and Jeep Grand Cherokee with a twin-turbocharged V-6 producing at least 350 horsepower.
Chevrolet hit a sweet spot with its Traverse crossover, providing more passenger room than a truck-based Tahoe, with better fuel economy and ride comfort. The 2013 Chevrolet Traverse features a more refined exterior appearance, dressed up with a more contemporary Chevrolet grille.
According to the German automaker, the 2013 Mercedes-Benz GLK-Class combines "classic" all-terrain SUV styling with the design language of current Mercedes-Benz sedans. Nearly a thousand new parts have been used for the 2013 model, which comes with what Mercedes-Benz calls "pioneering assistance systems."
Subaru is introducing a brand-new model for 2013, which makes its world debut at the Show. Billed as a "fun to drive" compact crossover vehicle, the 2013 Subaru XV Crosstrek is based on the subcompact Subaru Impreza platform. BMW will use the show to debut the X1 SUV and M6 Convertible. In addition, the BMW M6 Coupe, X6 M, and 6 Series Gran Coupe make their American debuts at the Jacob K. Javits Center. In addition, the electrified BMW i3 and i8 concepts will be on display.
Continuing Mazda's promotion of its SKYACTIV technology, a midsize four-door sedan concept makes its North American debut at the New York Auto Show. Named TAKERI, it's the first concept with a SKYACTIV clean-diesel engine, and hints to a 2014 Mazda6 sedan.
Auto Show enthusiasts can check back daily for updated photos and details on the latest from the 2012 New York Auto Show.
About autoMedia.com: The auto website was launched in September 2000 by a team of automotive editorial, design, and publishing professionals, with the goal to be the premier provider of quality automotive content on and for the Web. Today it features over 92,500 pages of original articles, including over 2,500 features researched and written by leading automotive experts, covering new and used car buying, new vehicle previews, road test reviews, car care maintenance, professional driving advice, and technology. Automotive enthusiasts and new car shoppers can read about the latest industry news, pricing, rebates and incentives, view photo galleries and research details on all makes and models. For more information visit autoMedia.com.