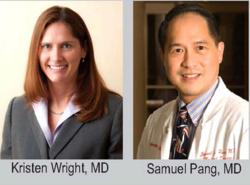 Ovarian reserve is a primary cause of female infertility, especially among those 35 years of age or older.
Boston, MA (PRWEB) November 01, 2012
Diminished ovarian reserve is a primary cause of infertility among women, especially those who are 35 years of age and older. Dr. Samuel Pang, Medical Director at the Reproductive Science Center (RSC) of New England, will give a one hour plus presentation explaining what ovarian reserve is and describing the medical treatment options available for women who are having difficulty becoming pregnant as a result of this condition.
Dr. Pang's presentation is scheduled for 11 AM to 12:15 PM at the Paths to Parenthood Conference to be held Saturday November 3, 2012 at the Best Western Royal Plaza Hotel in Marlborough, Massachusetts. Registration is available online at the Resolve New England website or at the door beginning at 7:45 AM.
"When Treatment Isn't Working" is the title of Dr. Kristen Wright's conference presentation scheduled from 1:30 to 2:45 PM. As Dr. Wright explains, "It's important that fertility treatment plans are constantly evaluated by managing physicians so that adjustments can be made when treatment isn't working."
Dr. Wright's workshop will include information about infertility treatment alternatives, medication protocol adjustments to consider when treatment isn't working and what to expect from a second opinion. Dr. Wright is the chief Reproductive Endocrinologist at RSC New England's New Hampshire fertility clinics.
Coordinator of RSC New England's Donor Egg and Gestational Surrogacy Program, Donna Martin, will also be available from 9:15 to 10:30 AM to answer questions about financial issues associated with infertility treatment.
Founded in 1988, the Reproductive Science Center of New England is one of the 10 largest IVF treatment centers in the United States. RSC New England, a member of the national Attain Fertility Centers network, provides comprehensive infertility diagnosis, evaluation, consultation and treatment.