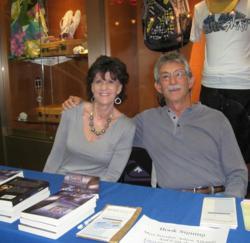 In her Darcy Farthing mystery series, Author Arleen Alleman uses luxury cruising as a backdrop for her page-turning plots says M3 New Media
Castle Rock, CO (PRWEB) February 08, 2012
Luxury cruising is a way of life for thousands of people. In her exciting Darcy Farthing mystery adventure series, author Arleen Alleman appeals to the cruising set with stories featuring murder, mystery, and intrigue at sea.
Alleman's first installment in the series, Currents Deep and Deadly, garnered acclaim from luxury cruisers, who delighted in the opportunity to read a book set on a cruise ship while they were at sea on a cruise of their own. In her new book, Currents of Vengeance, the second installment in the series, Alleman reprises the character of Darcy Farthing, who accompanies her boyfriend, Mick Clayton, a Government Accountability Office (GAO) manager, and the now unemployed Tom Smythe, a close friend of the couple and the former chief of security on the Sea Nymph to conduct a joint GAO/FBI Congressional investigation of unprosecuted crimes on cruise ships, taking readers back to South America aboard the Sea Nymph.
With such strong support within the world of luxury cruisers, Alleman has even held book signings on cruises for her eager fan base. Although Alleman's books have a distinct appeal to and following within the luxury cruising community, they are stories that will appeal to all types of readers.
Alleman's seamless fusion of elements of plot, genre, character, and theme ensures that there is something in the Darcy Farthing mystery adventure series for everyone, from the page-turning plots that appeal to mystery fans to the in-depth description of ships that appeal to the analytical male mind. Currents Deep and Deadly and Currents of Vengeance are the perfect books for readers to take on their next cruise or to "tide" them over between cruises.
The Darcy Farthing Mystery Adventure Series
Alleman's series centers around Darcy Farthing, a pragmatic woman in her forties, who readers were first introduced to in Currents Deep and Deadly. After coming face to face with a vicious murderer in the first novel, she wrote a book about the madness she confronted, which completely changed her life, both personally and financially. The third installment in this page-turning series, Current Assets, is slated for release in Autumn of 2012.
Arleen Alleman
Arleen Alleman spent 21 years as an analyst for the Government Accountability Office. After retiring from the GAO, Alleman and her husband became avid cruisers, which inspired her to write stories set on cruise ships. In her two six-week cruises around Cape Horn; the first was spent writing her book and the second was spent doing book signings and promoting her books. For more about Arleen Alleman, visit her website http://www.ArleenAlleman.com/ or follow her on Twitter @AAllemanWrites.
Arleen's book marketing powered by M3 New Media.
###