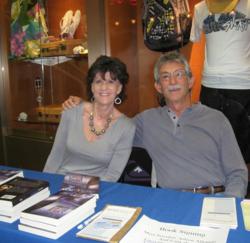 Arleen is working on her 3rd novel in the series as the first two books gain traction and grow in popularity.
Castle Rock, CO (PRWEB) February 24, 2012
Mystery novels often focus only on creating a page-turning plot and a single strongly written character, without many thematic elements to enrich the text. In the Darcy Farthing mystery adventure series, author Arleen Alleman makes a complete departure from stock formula for mystery, creating a compelling cast of characters, interweaving themes of adoption, PTSD, and family into their stories, as well as using the timely topic of cruise ship safety as a backdrop.
In the first novel, Currents Deep and Deadly, Alleman tackles the topic of unprosecuted crimes at sea through the story of Darcy Farthing, who overhears a murder for hire plot, after which crew members begin mysteriously disappearing. Interwoven into the nail-biting plot are other, equally serious topics, as her daughter, Rachael, who she gave up for adoption after her divorce drove her "really and truly crazy" comes back into her life and her "non-belief system" is shaken. The second novel, Currents of Vengeance, brings PTSD to the forefront, as Mick struggles to deal with the trauma of the mystery adventures, leaving his relationship with Darcy hanging precipitously in the balance.
By interweaving these and other thematic elements, Alleman adds layers of depth to Currents Deep and Deadly and Currents of Vengeance that are not typically seen in the mystery adventure genre. The topics of accountability for crimes committed at sea and accountability within the cruise ship industry are particularly relevant as we face the repercussions of the Costa Cruises accident, ABC News's 20/20 tackles the topic in their January 20th story, "Cruise Ship Confidential," and the 18 month deadline for Obama's cruise ship safety bill looms in the very near future. This timely story will appeal to readers across a wide range of genres with its diverse host of themes.
The Darcy Farthing Mystery Adventure Series
Alleman's series centers around Darcy Farthing, a pragmatic woman in her forties, who readers were first introduced to in Currents Deep and Deadly. After coming face to face with a vicious murderer in the first novel, she wrote a book about the madness she confronted, which completely changed her life, both personally and financially. The third installment in this page-turning series, Current Assets, is slated for release in Autumn of 2012. To watch the book trailers, visit http://www.arleenalleman.com/trailer.htm.
Arleen Alleman
Arleen Alleman spent 21 years as an analyst for the Government Accountability Office. After retiring from the GAO, Alleman and her husband became avid cruisers, which inspired her to write stories set on cruise ships. In her two six-week cruises around Cape Horn; the first was spent writing her book and the second was spent doing book signings and promoting her books. For more about Arleen Alleman, visit her website http://www.arleenalleman.com/ or follow her on Twitter @AAllemanWrites.
Contact the author directly to obtain a review copy of the book. Author marketing powered by M3 New Media, Tulsa, OK.
###