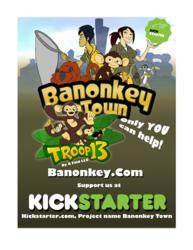 Receive Great Prizes When You Donate to Our Kickstarter Campaign
Minneapolis, Minnesota (PRWEB) September 04, 2012
Banonkey Town is an action adventure game designed to be a fully 3D, immersive, story-driven experience that will lead the charge into the next generation of mobile games. Funds raised will be used to pay for more workspace and state-of-the-art music and sound effects.
In the game, Banonkey Town, the player must seek out and capture the runaway monkeys and bring them back before they destroy the town.
"Banonkey is not solely about catching monkeys, it is about saving the town and everyone in it," says Soulaire Allerai, the CEO of Troop 13. "It's a game with a story that moves you, that makes you want to play it again and again and one you'll want to share with your friends. Banonkey Town has a depth that you will only uncover once you begin to play it… don't let the monkeys fool you."
Banonkey Town's Beta testing should begin around the 1st of October. The game is expected to be released on the following formats: iOS, Android and PC/Mac.
About Banonkey Town
The player is able to navigate the world via on-screen thumb-stick and buttons. This allows the player free movement within the environment and provides a familiar set of controls. Jumping, picking up objects, climbing ladders and entering doors are controlled with a context sensitive button. The player is armed with a 'Banana Cannon' that enables them to fire various fruits and other non-harmful projectiles to distract and incapacitate the monkeys in the town. Built into the player controls is a targeting assist that makes firing at monkeys and other world objects simpler. Not all monkeys are susceptible to bananas. Using the wrong fruit on the wrong monkey results in the primate simply eating the fruit and temporarily getting bigger and tougher. If they get too much fruit to eat they become more aggressive and charge at the player knocking, them down.
The player can gain access to better fruit and other items by talking with members of the town, solving their dilemmas and completing various other quests. The player's main help is provided by a fellow zoo employee that the player communicates via walkie talkie.
To view their Kickstarter video, make a donation and learn more about the game, visit: http://www.banonkey.com/kickstarter
About Troop13
Troop 13 is made up of a dynamic group of innovators from all walks of life and all ages. Creativity and passion are the forces that drive them. They are bound together by a desire to use modern communication technology to create robust and refreshing gaming experiences for a variety of audiences and show people what mobile platforms can do.