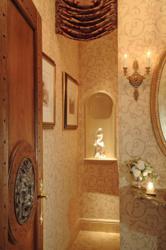 ...powder rooms should be little jewel boxes, and even small bathrooms can have that air of a calm retreat.
Boston, Massachusetts (PRWEB) November 03, 2012
Sally Wilson, ASID and John Kelsey from the Boston Interior Design Firm Wilson Kelsey Design are experts at creating bathrooms – from sparkling jewel-like powder rooms to luxurious master baths and spas – and their assemblage of awards proves the point. The interior design firm has won numerous awards for their renovation and creative design expertise. On November 7, 2012, Sally Wilson will take her expertise and present examples of alluring bathrooms at a seminar enticingly titled "From Studs to Stunning: Remodeling Tips from the Pros." Sponsored by Designer Bath & Salem Plumbing Supply of Beverly, Massachusetts the seminar will feature a team of pros who will present behind-the-scenes tips on how to achieve dreamlike bathrooms with mindful adherence of budget and schedule. Other guest panelists include Gary Moffie of The Remodeling Company, John Magruder of Magruder Associates - a firm that represents Rohl, Victoria + Albert, Native Trails and other fine brands, and moderator Mary Beth Haggerty, ASID New England Chapter President and owner of The Drawing Room Interior Design.
Current trends in bath design include expansive showers, soaking tubs, heated floors, use of daylight and soft evening lighting. Sally Wilson will explore the concept of total transformation, showing intriguing before, during and after photos of projects that offer inspiration and guidance. Sally has often said that "powder rooms should be little jewel boxes, and even small bathrooms can have that air of a calm retreat."
About Wilson Kelsey Design
Praised for creating elegant, yet genuinely livable homes, the husband/wife team of Sally Wilson, ASID and John Kelsey, CAPS continues to garner acclamations for their design talents. Their firm has been published both locally and nationally and has received numerous regional and national awards including The Institute of Classical Architecture and Classical America New England's 2011 award for Best Residential Interior Design and Interior Renovation; American Society of Interior Designers (ASID) New England Design Excellence First Place Awards for a Residential Bath and a Residential Space, Dream Home Awards inclusive of a Gold Award for Best Kitchen Remodel, a Silver Award for Best Design of a Condo/Townhouse/Loft, and a Silver Award for Best Bathroom Remodel; a COTY Award for Best Kitchen over $150,000 presented by the National Association of the Remodeling Industry and Silver Prism Awards for Best Kitchen Remodel over $150,000 and Best Interior Design of a Living Area sponsored by the Builders Association of Greater Boston.
Based in the greater Boston area, the duo is unique in that they bridge the gap between architect and decorator. They share a strong technical background, including the ability to read and prepare architectural drawings. The former producer of This Old House referred to their work as "heavy-duty interior design." In organizing their firm, they have divided the labor between them into the "hard" and the "soft". John designs and details the hard – interior architectural detailing, cabinet design, lighting, interior construction drawings, construction field supervision, and consultant coordination. Sally initiates and implements project concepts inclusive of interior design, furniture, decorative lighting, antiques, fabrics, and color and finish selections. The homes they design are elegant and sophisticated but always with a sense of comfort and livability. With backgrounds in commercial and corporate design as well as private residences the team specializes in a variety of project types.
WILSON KELSEY DESIGN
Phone: (617) 292-3380
Website: http://www.wilsonkelseydesign.com
Blog: http://blog.wilsonkelseydesign.com
ABOUT DESIGNER BATH
Designer Bath is a 4,500 square foot showroom north of Boston that offers a spectacular array of kitchen and bath fixtures. Their talented associates work with designers and homeowners to explore imaginative possibilities. The firm has been awarded Best of Boston and the Best of the North Shore!
About Designer Bath's Seminar
"From Studs to Stunning: Remodeling Tips from the Pros"
November 7, 2012
6:00 p.m. – 8:00 p.m.
At
Designer Bath & Salem Plumbing Supply
97 River Street
Beverly, MA 01915
http://www.designerbath.com