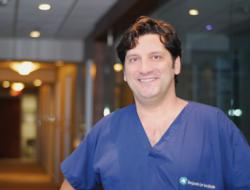 I consider Dr. Benjamin not only a truly consummate professional but also a very warm and kind person. This is also reflected in his entire staff and office - a lovely experience. - Jean Manibog, cataract and crystalens patient
Los Angeles, California (PRWEB) August 17, 2012
The Benjamin Eye Institute is widely known and respected as a world class ophthalmology practice and they just got better. Dr. Benjamin is one of only a few eye care professionals in the United States which is equipped to perform laser cataract surgery. The doctor utilizes the latest cataract care technology which is known as femtosecond laser assisted cataract surgery.
The new procedure is extremely good news for patients who are looking for cataract surgery in Los Angeles and the surrounding area. Although laser cataract surgery is a new procedure, patients can feel safe because the doctors at the Benjamin Eye Institute only use an FDA approved laser cataract surgery platform which is known as Lensx.
The Lensx platform makes every step of cataract surgery safer and more precise. With the aide of the laser and a computer, patients receive perfect incisions and are able to see better almost instantly. One of the principals at the Benjamin Eye Institute said, "We are proud to be one of very few practices in the US to be able to offer this exciting new technology to our patients.
"I consider Dr. Benjamin not only a truly consummate professional but also a very warm and kind person. This is also reflected in his entire staff and office - a lovely experience." - Jean Manibog, cataract and crystalens patient
The new laser cataract surgery procedure will hold promise for millions of people throughout the world as the technology begins to spread to hospitals and clinics in highly industrialized countries such as the United Kingdom and Canada. Many consumers in those countries are ready willing and able to undergo the procedure to enhance the quality of their life.
Cataract surgery in general isn't overly expensive and it's probably not much more than the LASIK cost in Los Angeles which is one of the areas served by the Benjamin Eye Institute. Dr. Benjamin doesn't charge outrages fees for any of the procedures he performs which is one of the main reasons for the institute's popularity.
About
The Benjamin Eye Institute is a world class comprehensive ophthalmology practice with an emphasis on refractive and premium cataract care located in West Hollywood, California. Our modern office is equipped with all the diagnostic and treatment technology that's needed to deliver state of the art eye care, and includes our own in-office climate controlled LASIK suite.
Contact
Benjamin Eye Institute
9201 West Sunset Blvd, Ste 709,
West Hollywood, CA 90069
Phone: (310) 275-5533
Web: http://benjamineye.com