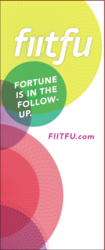 Burnaby, British Columbia (PRWEB) March 30, 2012
Fiitfu CRM Solutions, a Customer Relationship Management tool designed for those in Network Marketing has recently launched new features which they feel will ensure no client will go forgotten.
Before the launch of the new tools, Fiitfu would remind the user when to follow up based on a pre-determined list of follow ups. But if a user deselected the follow up keys, no follow up would take place which would mean that a client actually could get lost in the shuffle.
The latest feature Fiitfu has launched will actually remind you when no activity has taken place on a client's portfolio for over 6 months, and will list them for their clients.
When asked why the changes CEO Mary-Jane Mehlenbacher stated "In Network Marketing you are meeting people all the time, it can be daunting to follow up with everyone even if you have reminders in your calendar. So we designed a tool to help you get back on track. If you have a list of 100 clients you haven't seen or spoken to in 6 months, you can now easily download this list and do a campaign specifically for them. We want Fiitfu to give you the peace of mind knowing that NO client will ever fall through the cracks again."
About us: Fiitfu is a web based CRM system designed for Network Marketers. If client profiles, invoicing, sample tracking, event planning, referrals, scheduling and filing are making your head spin, then Fiitfu could just be the perfect Fiit! Try our 30 day free trial to see how Fiitfu can help the Network Marketer and Small Business owner get organized. Have peace of mind knowing that no client will fall through the cracks again