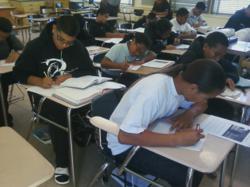 Los Angeles, CA (PRWEB) January 25, 2012
In April 2012, the National Financial Educators Council (NFEC) is set to launch a new test for assessing financial literacy across the U.S. Developed through years of research and conducting interviews with more than 20,000 people, the financial literacy test aims to measure the success of NFEC-sponsored financial literacy programs nationwide.
The NFEC research team has identified three key areas of financial knowledge that define a person's financial capability. Measuring knowledge in these key areas among participants before and after they complete a financial literacy program will allow organizations to assess how well they succeed in teaching crucial financial skills to their target audiences. The test also informs organizations how to design comprehensive financial education initiatives to achieve maximum results among the people they serve.
The three key areas measured by the NFEC's new test are motivation to learn, knowledge of personal finance topics, and the ability to identify the best first steps to take toward improving one's financial situation.
Measuring participant motivation to learn the subject matter directly guides organizations to choose the best mode of instruction delivery and helps identify which lessons deserve primary focus. The NFEC's Certified Financial Education Instructor program teaches educators how to adapt the curriculum and teaching style based on the participants' current motivation to change. The NFEC uses the Stages of Change Model to determine a person's willingness to learn.
Subject knowledge forms the second key area measured by the NFEC financial literacy quiz. The participants' current financial capabilities across ten topic areas included in the NFEC financial education standards are assessed. Conducting the test pre- and post-program participation allows Certified Financial Education Instructors to highlight improvement in participants' knowledge and thus directly measure how well the instruction succeeded to impart financial capability.
The third key area on the test is ability to recognize the best first steps a person should take toward improving one's finances. During their interviews with more than 20,000 U.S. citizens, the NFEC learned that most people have trouble identifying the first step toward financial health and freedom. As a consequence, many people do nothing. Improving financial literacy nationwide will depend on helping people get past their confusion about the best first steps and thus motivating them toward positive action.
Existing financial literacy tests commonly measure only knowledge of the subject matter. While subject knowledge does provide a baseline for pre- and post-testing, the NFEC recognizes that the other two key aspects are just as important. Knowing participants' degree of motivation and understanding of the best first steps will guide instruction delivery and ensure that the program addresses specific gaps in knowledge for any given population.
The NFEC's new financial literacy test aligns with educational standards by measuring 10 key concepts: financial psychology, credit and debt, budgeting and accounts, skill growth, income, business relations, long-term planning, risk management, investments, and social responsibility.
The National Financial Educators Council is a social enterprise organization committed to improving people's financial capability worldwide. The NFEC develops tools, resources, and training to help organizations and individuals share the message of financial literacy at the community level. The NFEC's financial literacy test is one such tool that organizations can leverage to measure program effectiveness and gain baseline understanding of participant knowledge about personal finance.
###