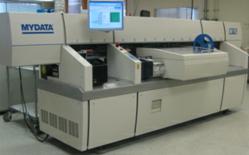 We've added 50% more capacity to meet current customer demands and are ahead of pace for future requirements.
Minneapolis, Minnesota (PRWEB) February 22, 2012
All Flex announces it has once again enhanced their automated surface mount assembly line with the purchase of a Mydata 15 component placement machine for their Bloomington facility, where finishing operations take place. The MY15 system allows for high speed placement accuracy to .001" and is capable of placing very fine pitch components down to 0201.
According to All Flex Vice President of Operations, Kai Warnock, this is a major upgrade to All Flex SMT capabilities, "we've added 50% more capacity to meet current customer demands and are ahead of pace for future requirements. Our customers want turnkey sources that can manufacture flex as well as add value with SMT and thru hole assembly services."
The newer technology provides vastly improved programming features and speed that make it a perfect fit for the company's high mix assembly requirements. "This MY15 system with nine heads is thirty times faster than existing equipment and more robust, and with the larger, non-standard bed size we can handle our oversize panels more efficiently giving us more flexibility with changeover," says Chad Nevils, All Flex Bloomington Plant Manager.
Warnock says the company continues to grow and is committed to investing capital when necessary to meet and exceed customers' needs, "as their volume demands increase so do assembly requirements. We are in great shape to support additional SMT assembly with even more versatility and upgradeability."
Along with this improved automated surface mount capability; All Flex can also assemble thru hole components, leaded devices, tactile domes, staked terminals, does selective soldering, and special structures on the same circuit. This makes All Flex a foremost flexible circuit manufacturer with comprehensive assembly capabilities.
About All Flex Flexible Circuits & Heaters:
All Flex is a privately held company specializing in quick-turn and low to medium volume production runs of flexible printed circuits and custom and stock flexible circuit heaters. For over 20 years All Flex has been producing flexible circuits and providing component assembly for the medical, military, aerospace, automotive, instrumentation, and various industrial markets. All Flex manufacturing headquarters are in Northfield, Minnesota with a second facility just north in Bloomington, MN.
# # #