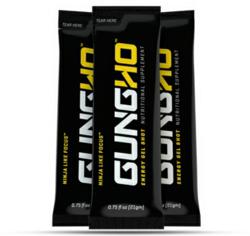 GungHo provides me the edge I need. Better focus = more pwnage.

-- SWIFTY
Pro Gamer & YouTube Celebrity
Salt Lake City, UT (PRWEB) September 28, 2012
To fuel this week's World of Warcraft (WoW) expansion, GungHo challenged leading professional gamers to take the Ninja Challenge: For three days, drink just water. Take no energy drinks or shots. When a lift is needed, take a GungHo focus supplement.
"I was in the zone", said Bajheera. "Hundreds of my fans are pawning Pandoria thanks to GungHo". And Ninja-Like Focus is spreading. "Our research shows that four out of five people who take energy products actually want focus", said Mason, GungHo Co-Founder. Energy drinks or shots commonly fail at both ends of the gamer's experience. The initial rush and jitters systematically lead to the final crash, all of which distracts a gamer. Serious gamers need intense concentration and rapid hand-eye coordination to recall hundreds of different moves. Swifty remarked: "GungHo provides me with the edge i need to remain focused. Better focus = more pwnage."
GungHo is running two promotions to fuel "Pandoria Pandomonium": In conjunction with their Ninja Challenge they are offering free GungHo trial packs at GoGungHo.com/FREE (just pay shipping). Or WoW fans can go to Ninjalikefocus.com to win a free case.
About GungHo
GungHo is a focus supplement for the brain. It was launched by Go GungHo, LLC out of Salt Lake City, UT in early 2012. More than simple alertness, GungHo's proprietary blend of ingredients are proven to increase focus, concentration, memory storage, and memory recall, while typically avoiding the harsh rush, jitters, and crash common with energy products.