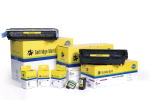 Businesses that are not looking for cheaper ink or toner options for 2013 don't realize the savings they are missing
Orlando, Florida (PRWEB) December 20, 2012
Cartridge World Orlando is giving away $100.00 gift certificates in Dining Dough for each $100.00 customers spend on ink or toner for their printers, copiers and fax machines. Customers can choose to redeem their gift certificate at any of the restaurants listed on the DiningDough.com website.
"With people entertaining over the holidays these gift certificates can help off-set consumer's entertainment expenses. There are several popular restaurants on the DiningDough.com website where the recipients can use these gift cards. Restaurants like Sam Sneads Tavern, Froggers and several others" says Jeff Karakoosh, owner of Cartridge World Orlando. "People are always looking for ways to save money on their ink and toner cartridges and this gift certificate provides them another way to save even more during the holidays" says Karakoosh.
Cartridge World Orlando is Central Florida's source for recycled ink and toner cartridges for printers, copiers and fax machines. They are located at 801 West State Road 436, Suite 1025, Altamonte Springs, Florida 32714. Cartridge World Orlando offers toner and ink cartridge refills for most major brands including HP, Dell, Canon, Brother, Lexmark, Samsung, and more. Savings are available up to 35% when using a Cartridge World Orlando ink or toner cartridge compared to shopping at big box retail stores.
Their website has a sample pricelist featuring different printer models with the associated ink or toner cartridges. Consumers are urged to call the ink and toner technicians at Cartridge World Orlando at 407-767-0680 or send an email if they don't see their printer, fax machine or copier model listed.
Cartridge World Orlando caters to businesses in the Central Florida area looking to cut their office expenses. They offer free delivery on orders of $75.00 or more to qualified businesses within a 30 mile radius from their Orlando store location. "Businesses that are not looking for cheaper ink or toner options for 2013 don't realize the savings they are missing. Over the course of 12 months it can add up to thousands of dollars annually by using recycled ink or toner cartridges" says Karakoosh.
Cartridge World Orlando is offering their "Spend $100.00, Get a $100.00 gift certificates" through January 5, 2013. For more information visit their website at http://www.cartridgeinkandtonerorlando.com or call 407-767-0680.