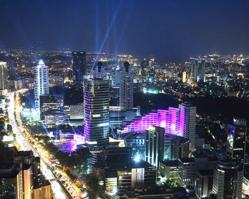 Istanbul is still an emerging market and if you are new to investing overseas, then I am a firm believer that it is better to spread the risk
(PRWEB UK) 22 May 2012
There are already locations where you can expect to pay more than £500,000 for luxury apartments with panoramic views of the city (Source: Rightmove), however investors need to be sure of their strategy to get the best out of the city's residential property market according to Colordarcy.com.
Loxley McKenzie, Managing Director of Colordarcy.com said "If you ask a typical property investor what he would invest in with £500,000, one property or a portfolio? He will immediately say 'a portfolio'.
This is because the idea of the portfolio is so deeply ingrained in the heads of most experienced investors that even if they already own a portfolio of properties the answer to this question would still be the same."
However there are those novice investors who are unsure exactly what price range they should be targeting.
If they are lucky enough to have half a million to invest in Turkey property, their dilemma is, should they be looking at more expensive properties closer to the centre of large cities like Istanbul? Or further out where property is significantly less expensive?
Property in or near the centre of Istanbul will inevitably be more expensive on average than anywhere else in the country, however the rent will generally be higher according to Colordarcy.com.
Mckenzie added, "The best strategy for investors with only a limited portfolio is to target homes under £70,000 in Turkey, don't forget Istanbul is still an emerging market and if you are new to investing overseas, then I am a firm believer that it is better to spread the risk to being with.
There are also more potential buyers for these properties, so they are easier to sell and in most cases bring enough rental income in so that they pay for themselves.
What you should not do is buy properties for 500k and rent them out for less than £400 a week."
Click here to view selection of properties in Istanbul to see which ones will suit your current investment strategy.
Notes to the editor:
Colordarcy is a leading property investment company that specialises in finding positive cash flow investment properties worldwide. Colordarcy investment property portfolio includes some of the best properties for sale in Atlanta, Brazil, Florida, Turkey and the United Kingdom.
For more information, supporting pictures or logo artwork, please contact:
Steve Billing
PR Manager
Tel: +44 (0) 207 100 2393
Email: press(at)colordarcy(dot)com
Web: http://www.colordarcy.com/