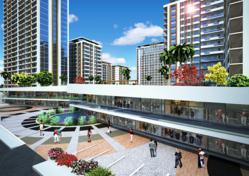 Kusadasi is an incredible investment opportunity and the sales figures we are experiencing undoubtedly speak for themselves.
(PRWEB UK) 11 May 2012
Colordarcy are currently selling 3 properties at Kusadasi for every 1 that they sell in the U.S. and the reason for this dramatic surge; the financials!
Kusadasi Spa Village Resort comes to the market with a 10-year rental guarantee and a 127% buy-back guarantee plus a free month's usage. This 5-Star lifestyle and investment opportunity ultimately provides the best of both worlds!
Loxley McKenzie Managing Director of Colordarcy.com said, "Kusadasi is an incredible investment opportunity and the sales figures we are experiencing undoubtedly speak for themselves. Kusadasi Spa Village Resort offers a 10-year guaranteed rental at 7.5% yield per year; in addition owners are eligible to use their property for a whole month without any restrictions of seasons.
Furthermore the developers guarantee to buy-back your property after 5 years should you wish to liquidate your asset at a 127% of the purchase price! As turkey prepares to enter the EU, property prices in this region are predicted to rise by an incredible 50% over the next 5 years."
Despite the tremendous success attributed to Kusadasi Spa Village Resort, http://www.colordarcy.com is equally excited about their Istanbul development 'Sport City'. Situated in the rapidly developing and popular suburb of Beylikduzu close to the main Istanbul E5 ring road this development sold out the entire first phase in under two weeks.
Sport City offers a hassle free buy-to-let opportunity with a selection of one, two and three bedroom apartments available from £50,000 with a guaranteed 7% bank bonded rental guarantee and just 40% of the total property price required as a deposit.
Loxley continues, "Rent in Istanbul is still comparatively low compared to those in London, yet apartments in good locations can still generate 1,000 Euro per month in rental income which should more than cover any mortgage payments and associated costs. With EU accession nearing and Istanbul continuing to be the most talked about city in the world for future property investment - there is expected to be a significant change to rental and property prices in the foreseeable future.
The young, increasingly affluent population of Istanbul will not have the means to buy as prices rise out of reach which will help keep rental demand high. This will give investors more cash-flow through rising rents and strong capital growth which will translate into higher yields in the short term.
I fully expect Istanbul to outperform many western European capitals in 2012 including London"!
Click here for more information on Kusadasi Spa Village Resort:
Notes to the editor:
Colordarcy is a leading property investment company that specialises in finding positive cash flow investment properties worldwide. Colordarcy investment property portfolio includes some of the best properties for sale in Atlanta, Brazil, Florida, Turkey and the United Kingdom.
For more information, supporting pictures or logo artwork, please contact:
Steve Billing
PR Manager
Tel: +44 (0) 207 100 2393
Email: press(at)colordarcy(dot)com
Web: http://www.colordarcy.com/