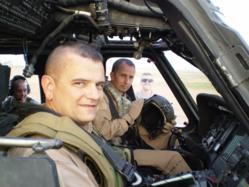 I see the parallels between Matco and the military. There's camaraderie between the distributors and a strong desire and motivation to succeed, Mr. Ryan said.
Stow, OH (PRWEB) June 01, 2012
Matco Tools announces its enhanced tool franchise incentive for veterans who are looking for a new career. Matco's new double incentive which has increased from $5,000 to $10,000 provides retired military personnel with reduced start-up costs. To date, Matco Tools has more than 230 veteran franchisees that have found a new professional life with the company. Matco is committed to ongoing support of our military veterans and was named by the International Franchise Association's Veterans Transition Franchise Initiative, also known as VetFran, as one of the 10 most popular franchises for military veterans.
By choosing to purchase a Matco Tools franchise, veterans have the opportunity and freedom to run their own business, with the backing of a powerful national brand. Veterans become part of an award-winning franchise system that offers them the training, marketing, and support needed to achieve and exceed business and personal goals.
Thomas Ryan, a 28-year Army veteran and Matco Tools distributor in Colorado says, "Matco cares about the military and how they serve our country, they give you the whole package when it comes to starting your own franchise. It can be intimidating to start a business like this, but within a month of starting my franchise it was successfully paying its own bills. I see the parallels between Matco and the military. There's camaraderie between the distributors and a strong desire and motivation to succeed," Mr. Ryan said.
Matco also provides at least 325 potential customers along with a pre-qualified List of Calls with comprehensive training to service these customers and run a successful business. Similar to boot camp, all new Matco franchisees go through eight weeks of classroom and field training, to give them the best preparation possible. Training is completed on the corporate and local level by Matco's experienced training team. After completing the initial program, Matco distributors receive continued assistance through ongoing training and support. Returning to civilian life after military service is different for every person, but Matco prepares franchisees to be successful.
About Matco Tools
Matco Tools manufactures, distributes and services premium quality automotive equipment, tools, and tool storage for the professional technician. The company has more than 60 years of national brand experience in the automotive equipment industry and a vast product line of more than 13,000 of the highest quality, innovative tools and accessories. The company's franchise offering has no franchise, royalty, or advertising fees. Initial corporate and ongoing local training create and build outstanding value for the franchisee's business.
For more information about Matco Tools veterans franchise opportunities, call 1-888-696-2826 or visit Matco's website for tool franchise information.