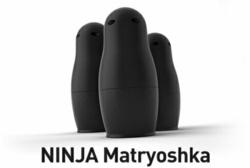 "Every company without a good social media presence is losing money," says Sergey Kultyshev of Matreshka Media
(PRWEB) June 19, 2012
Online brand marketer, Matreshka Media, is offering a new special service package available now through the end of summer. The summer package incorporates social media management and reputation management for the lowest industry offered price of $278 per month. By creating online communication between brands and consumers, Matreshka Media raises small bonusiness awareness through positive publicity and social media presence.
"Every company without a good social media presence is losing money," says Sergey Kultyshev of Matreshka Media. "Social Media has the highest Return on Investments in marketing nowadays."
As part of the social media and reputation management package, Matreshka Media will take care of a business' top 4 social media outlets or blogs. This includes complete set up and design, updates, and advertising campaign management for sites including Facebook, Twitter, Four Square, Google+ and Instagram. Matreshka Media will formulate a Search Engine and Social Media Optimization strategy with engagement programs that will ultimately increase followers and participation.
Also included in the summer package is a detailed online presence analysis where Matreshka Media will manage the reviews found on search engine enquiries. Through sites such as Yelp, FoodLovers, Urban Spoon and Google Places where people turn to for peer reviews, Matreshka Media will manage feedback ensuring positive word of mouth reviews are driven to the forefront of any searches.
Because all IT and SEO tasks are outsourced to Russia, Matreshka Media is the only company in the industry who can offer a price as low as $278 per month for search engine optimization and reputation management services. The package is available from now until the end of summer.
For more information, visit http://www.matreshkamedia.com/#!home/mainPage
About Matreshka Media
Matreshka Media originated in Russia in 2006 as a team of online freelancers, bloggers and social media pros. Implementing social media marketing tactics, optimization, viral marketing and public relations, Matreshka Media works on various projects, mainly social media marketing campaigns management and international product expansion to U.S. and Russian markets. In 2011, Matreshka Media was formed as an International Digital Marketing Agency and has expanded their team within the U.S., Russia, Canada and UAE. Their offices are located in New York City and Moscow.
Contact
Sergey Kultyshev
(646) 510-3322
Info(at)matreshkamedia(dot)com