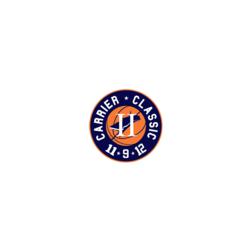 "We're thrilled to release the 10th annual Military Friendly Employers® list during the Carrier Classic event, "said Sean Collins, VP at Victory Media and Director for G.I. Jobs
Atlanta, GA (PRWEB) September 04, 2012
The 2012 Carrier Classic produced by Morale Entertainment will not only crown a champion on the deck of the USS Yorktown (CV-10), a historic U.S. Navy aircraft carrier outside Charleston, SC, but it will also crown the top 100 employers who recruit military veterans and spouses by playing host to the announcement of G.I. Jobs' 2013 list of Top 100 Military Friendly Employers ®.
G.I. Jobs' Military Friendly Employers® list, in its tenth year, serves as the primary benchmark of corporate programs aimed at recruiting veterans and is the de facto resource for service members seeking civilian employment. The list of Military Friendly Employers® is determined via an annual, data-driven, survey conducted by Victory Media, Inc.
The partnership between Morale Entertainment Foundation, who conceived and produced the original Carrier Classic, and Victory Media aims to assist service members seeking future employment with the top companies who recruit talent from the 250,000 new civilian workers the military produces annually. Employers from across the Fortune 1000 view service members or, "military alumni", as one of the largest and arguably most valuable sources of renewable and skilled talent in the country.
"Our mission is to raise the bar in creating unique, one-of-a-kind events that invoke the powerful appeal of entertainment, sports, and music to focus attention on our military men and women and to elicit support for them and their families," said Ken Kinnear, director for Morale Entertainment Foundation. "We want to acknowledge the nature and quality of their service and to elevate the public's awareness of the value service members bring to companies and their communities. We are excited to be a partner with G.I. Jobs and the team at Victory Media"
"We're thrilled to release the 10th annual Military Friendly Employers® list during the Carrier Classic event. We want the thousands of service members in attendance, and the millions at home, to see first-hand the long list of top corporations vying to hire military talent. These companies invest in military recruitment programs because the skills and traits associated with military service are highly valuable in the civilian workplace, and there is no better venue to showcase service members than on the deck of the USS Yorktown", said Sean Collins, Vice President at Victory Media and Director for G.I. Jobs.
In partnership, Victory Media and Morale Entertainment will hold a round-table discussion with local and state officials, veteran employment experts and representatives from sponsors of the 2012 Carrier Classic. The event will serve as an opportunity to share ideas and leading practices among employers hiring military talent. The announcement of the 2013 Top 100 Military Friendly Employers® will be included as part of the game with an on-court presentation recognizing the number one employer in the nation.
This year's Veterans Day Carrier Classic, set for November 9th, has been expanded to include a men's and a women's game, all in support of the U.S. Military. The men's game will feature the powerhouse Buckeyes from Ohio State led by Coach Thad Matta and the Golden Eagles of Marquette with Coach Buzz Williams, both of which have been recognized as Military Friendly Schools for four years, including this year's list.
The women's game will face off Notre Dame and Coach Muffet McGraw and Ohio State with Coach Jim Foster all taking place on another unique aircraft carrier based NCAA dual aboard the USS Yorktown moored at the spectacular Patriots Point Naval Museum grounds in Charleston, S.C.
# # #
About Morale Entertainment:
The Mission of the Morale Entertainment Foundation is to entertain and celebrate the men and women of our Armed Force, and to inspire profound appreciation and support from a grateful America.
We see our service men and women as brothers, sisters, sons, daughters, fathers and mothers and realize that their challenges and needs impact those around them. We should always have a sense of them as fellow citizens and not just when we call on them to defend us. Remember to Make Every Day Veterans Day.
About Victory Media, Inc.:
Victory Media is a service-disabled, veteran-owned small business founded in 2001. Our free, data-driven, Military Friendly® lists can be found at http://www.gijobs.com/top100mfe , http://www.militaryfriendlyschools.com and http://www.militaryfranchising.com. Our lists are also published in G.I. Jobs, Military Spouse, Vetrepreneur magazines, republished in national and local periodicals and are frequently cited on national and local TV stations.
For more information or to arrange interviews contact:
For Victory Media: BP Media Relations, Barbara Pflughaupt - 212-707-8181 or
Judee Cohen - 917-913-6847
For Carrier Classic: Blair Brady - 678-983-9393