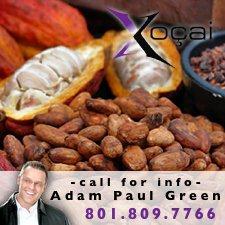 Reno, NV (PRWEB) November 02, 2012
MXI Corp., the creators of the Trademarked "Healthy Chocolate," are pleased to announce that they have a brand new slogan for their delicious dark chocolate Belgian product line: "Change Your Chocolate." This new slogan promotes healthy choices and delivers on that slogan by offering the world's most nutritious dark chocolate products. Did you know if you're like the average person, you eat about 12 pounds of chocolate per year? The problem with that is that most people are eating the "regular" unhealthy chocolate that has been stripped of its antioxidants and other vital nutrients. That's what makes Xoçaí Healthy Chocolate so different and so healthy! (Xocai.com)
http://www.mxicorp.com/csr/
Xoçaí is Socially Responsible - It is the policy of Xoçaí to make sure that our contribution to the planet is positive in our interactions with other cultures and people, and encourages leaving as small of an environmental footprint as possible. Cacao Sourcing - For instance, Xoçaí's cacao is obtained from small, family-owned and operated farms in the Ivory Coast. This is important because cacao beans from this region of the world are significantly higher in antioxidants due to the harsh growing conditions. As a socially and environmentally conscience company, MXI Corp or Xoçaí has been assured that there is no human exploitation or pesticides used in the harvesting of our it's cacao beans.
http://www.mxicorp.com/multimillionaires/index.php?dist=agreen
Adam's hard work and creativity helped him land this job of a lifetime. He obtained incredible business experience there and spent years innovating, improving processes and setting sales records. Although this dream job in Traditional Corporate America was a fun challenge for him, and something he truly enjoyed mastering, Adam's natural entrepreneurial spirit kept nudging him to do something more significant with his time and talents. http://www.MyChocolatePod.com, http://www.Facebook.com/AdamPaulGreen
Since 2001, Adam has been involved in the Health and Wellness Industry as a successful Entrepreneur, Broker, Product Developer and Manufacturer of Cosmeceutical products. During his career, he has worked with some of the most recognizable Fortune 500 businesses along with many top international Network Marketing companies. Adam has consistently proven his unique ability to help his clients achieve their goals through creative Distribution-Channel Placement, innovative Product Development and custom Manufacturing. Adam currently owns three profitable businesses.
http://www.mxicorp.com/multimillionaires/index.php?video=dreams
All MXI Corp products are focused on potent doses of delicious, antioxidant-rich Belgian cacao. MXI Corp believes that the high levels of natural antioxidants and Polyphenols that are found in its cacao can provide a viable solution to individual nutritional needs. The Xoçai™ (sho-sigh) line, which currently includes nine products, is manufactured utilizing a cold-press process, which preserves the nutritional values of the company's proprietary blends of vitamins and minerals. MXI-Corp is recognized as the category creator and world leader in healthy chocolate.
Their Powerful Custom Content is usually indexed by a search engine within the first few days of being posted, however you may not see your site show in the top of search results for a few weeks or even months. However once you are near the top, it will be harder to displace you.
http://www.mxicorp.com/customerloyalty/
~How to Sign Up for the Blog, Modify YOUR Account and Make Changes.
Research has shown that organic content is given more value by the search engines, and that organically motivated sites receive stronger interest by search engines as well as consumers who use the web to search for products and services. http://www.youtube.com/listpipe