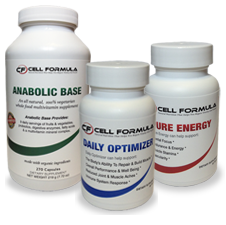 Now that the official 2012 Olympics schedule has been released, Cell Formula announced a new offer for athletes looking to maximize their potential.
(PRWEB) July 12, 2012
Now that the official 2012 Olympic schedule is available, Cell Formula announced a new offer on their all natural Daily Optimizer supplement for athletes aspiring to reach their optimal performance level. With the Olympic games just weeks away, the world is turning to London and wondering who will be the next breakout star athlete.
As many athletes turn their attention to the London Olympics, True Healthy Products has implemented a new campaign to help athletes understand the positive impact that all natural supplements and nutrition can have on an individual and their athletic abilities.
The new Cell Formula Report & Balanced Nutrition Guide are being launched at http://www.truehealthyproducts.com/cell-formula-reports. This free information will assist athletes in being more energetic, alert, stimulate brain function, and aim to improve overall quality of life. The company hopes that athletes worldwide, inspired by the 2012 Olympic Games, will look into their all natural approach to improving their athletic ability.
Anybody can now get a free consumer report about Cell Formula's unique natural nutrition products online. The report features information on how these supplements can naturally improve an athlete's performance, regardless of what level they play.
The comprehensive reports launched after the release of the 2012 Olympic schedule will be available for a limited time on the company's website. Users interested in receiving this free information can visit http://www.truehealthyproducts.com/cell-formula-reports.
True Healthy Products is a nutrition company dedicated to offering the best customer service and latest products that range from all natural sports nutrition supplements, healthy dark chocolate, weight loss programs, revolutionary skin care and whole food vitamin supplements.
For more information visit: http://www.truehealthyproducts.com
Contact:
True Healthy Products, LLC
2460 North Courtenay Parkway, Suite 210
Merritt Island, FL 32953
888.400.2920