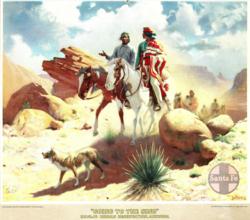 We'll have some of the most experienced dealers in the region...
Grapevine, TX (PRWEB) May 20, 2012
Rare Navajo art calendars printed by the Santa Fe Railroad to promote its offerings and vintage paper collectibles featuring the Beatles, Coca Cola, Pepsi and Dairy Queen are being offered for sale at the 8th Annual DFW (Dallas/Fort Worth) Postcard and Paper Show on June 1st and 2nd at the Grapevine Convention Center. One of the most fascinating shows in the country, it will present nearly one million paper collectibles including postcards, autographs, maps, photos, books, scrapbooking images and other paper ephemera.
With about 30 dealers from around the U.S., it does indeed offer something for all interests and pocket book sizes. "We'll have some of the most experienced dealers in the region for their subject matter and specialties which will be good for those seeking appraisals or unique merchandise," said Dan Monsanto of DM Promotions, show organizer. "We are very excited to be showing in our new venue." The show has relocated to the larger Grapevine Convention Center with a more central location and on-site concessions.
The huge selection of postcards includes antique, vintage, and modern featuring views of many cities, towns and scenic views of Texas, the U.S.A., and many foreign countries worldwide. There is a wide variety of topical categories including celebrities, animals, artist-signed, automotive, aviation, banks, beer & breweries, Black Americana, children, Christmas, comic and humor, courthouses, depots, disasters, fairs and expos, fire-related, greetings, Halloween, hold-to-light, holidays, hotels and motels, military, mining, National parks, oil and petroleum industries, Victorian art images, ranching and cattle, restaurants, risqué, Santas, ships, stadiums, trains and trolleys, transportation, and more.
Doug Harman, rare documents and paper collectibles dealer, will be displaying Santa Fe Railroad Calendars from the 50's, 60's and 70's illustrated by famous artists who specialized in depicting Native Americans, specifically the Navajo Indians. The calendars were created to encourage use of the railroad when it was thriving during the early and middle years of the 20th century. He will also have military and aviation items including WWI and the DFW Airport plus photos of cowboys, Charros and Vaqueros. The WWI aviation memorabilia includes a picture and a piece of the original fabric that came from a German D-7 Fokker plane (considered the best all-around German fighter plane designed by Anthony Fokker, the famous Dutch designer) that has been restored by the Smithsonian and on display. Some parts of Germany's World War I aircraft consisted of painted linen fabric instead of aluminum.
For those looking for images to frame for home decorating or to use in scrapbooking projects, dealer Lynette Beevers will be displaying numerous beautiful items. Beautiful Victorian postcards and prints of lovely flowers, pretty ladies, handsome men, rosy-cheeked children, darling babies and cute animals are among some to see.
Ned Coleman will be displaying postcards and images of locomotives, the Alamo, circus performers and other intriguing paper collectibles. A gem in his collection is a photo of famous cowgirls that performed in renowned rodeo tours throughout the early 20th century, such as Mabel Strickland, a.k.a. "The Lovely Lady of Rodeo," who also became a Hollywood stunt lady for various movies.
Should you have an interest in sheet music from the 1840's to the 1980's or rare songbooks of Roy Rogers and the Beatles, check out the offerings by Rob Reinhold. He also has WWI and military items, Marilyn Monroe and Norman Rockwell covers, sports-related magazines and paper featuring teams and sports figures including the Dallas Cowboys, a 1949 Joe DiMaggio cover plus a 1963 Orange Bowl Program.
Not to be missed, Donna Bardin will offer nostalgic soda collectibles of posters and other paper featuring pretty girls and Coca Cola and RC Cola along with a great artist rendering of a Dairy Queen that has classic cars lined up out front. All would look delightful on a game room wall.
The wide variety of paper collectibles and ephemera offered includes everything from matchbooks and sheet music to vintage advertising and antique photographs. There will be early writing, trade cards, stereo views, maps, prints, old travel brochures, local items of interest such as State Fair and Stockyards memorabilia, die cuts, early postal history, historical documents, letterhead, airline and transportation timetables, stamps, magazines, and more. Come look through hand-tinted cards, old Valentines and Easter cards, Santa Claus die cuts, pages from turn-of-the-century flower catalogs, prints, brochures, celebrity pictures and autographs, many images can be enlarged and framed for home décor and small images are suitable for embellishing scrapbooks.
Attendees are welcome to bring paper items they have inherited, purchased from estate sales or antique shops to obtain appraisals from experienced dealers; or even sell or trade them. There will be postcard reference materials and archival supplies available for purchase including postcard sleeves of all types and sizes, pages, boxes, markers and hard plastic protectors for larger paper items.
Though collectors will be looking for hidden treasures and rare cards which can be sold for hundreds or upwards of a thousand dollars or more, there is a nice selection of cards priced between twenty-five cents and one dollar, allowing beginners to get into the hobby at a very reasonable price. Whether you are collecting, conducting genealogy research, decorating or scrapbooking, it's a lot of fun hunting for treasures with the whole family.
The 8th Annual DFW Postcard & Paper Show is being held at the Grapevine Convention Center, 1209 S. Main Street, Grapevine, TX (near the intersection of Northwest Parkway and State Spur 103) on Friday, June 1st from 10 AM to 6 PM, and Saturday, June 2nd from 9 AM to 4 PM. Adult admission is $3.50 for a two-day pass and children are free with a paid adult. For more information including dealer listings, a map and directions to the show, nearby hotels, and much more, visit http://www.dfwshow.net or call 281-565-0771.