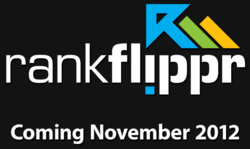 Rankflippr works for the most competitive keywords out there including "make money online" and "how to lose weight".
London, UK (PRWEB) November 14, 2012
The rumours of the death of SEO it seems have been greatly exaggerated. SEO isn't dead it just needs a little more creative thinking to achieve results in a post Penguin and Panda world. That is exactly what "Doctors" Brunson and Lynch have created with Rankflippr. It is a unique program that takes advantage of an SEO loophole to enable marketers to reach the coveted first page of Google for any keyword in any niche. Rankflippr opens its doors to new members at 8pm GMT on the 13th of November 2012.
What is Rankflippr?
Rankflippr is a simple but extremely powerful system based around the concept of deleted domains. Deleted domains are those domains which have been neglected or disregarded by their owners and have not been renewed. They can be used to get top rankings on Google and other search engines without the usual months or years of effort it normally takes. Many of these domains have hundreds of thousands of links pointing to them from top sites such as bbc.co.uk and google.com as well as .edu and .gov sites which are some of the most powerful and hard to get links on the net. The domains are often up to 10 years old which is of course another thing Google loves to see.
Rankflippr has been proven to work for some of the most competitive keywords out there including "make money online" and "how to lose weight". It makes it simple to achieve page 1 rankings for any keyword and can do in weeks what many internet marketers take years to accomplish.
How it works
The Rankflippr software scans the web 24 hours a day to find authoritative domains that have not been renewed by their owners. These sites often have hundreds of thousands or even millions of links pointing to them from various authority sites and they just need a little TLC to get them ranking on the first page of Google again. This is as simple as adding some fresh and original content to the site and letting Google know about it. Then when the site is back ranking where it should be all that is needed is a simple 301 redirect to the "money site".
Membership
Rankflippr is free to join for new members who can see the latest domains that have been found each week and place a bid on them. A Platinum membership option is also available where members can tell Rankflippr which niche they are working in and let RF do the hard work of searching for them.
About Rankflippr
Rankflippr is the brainchild of internet marketers and entrepreneurs Russell Brunson and Paul Lynch. Paul is a traffic generation and SEO expert and founder of http://www.searchdotcom.com. Russell has created the highly successful SuccessETC which promotes a number of brands and companies including Body Evolution, LifeGuard HQ and ClickFusion as well as his world famous http://www.dotcomsecrets.com.