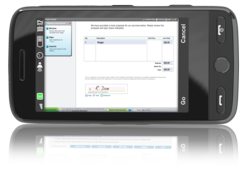 Chicago, IL (PRWEB) July 05, 2012
Sertifi will host its 30-minute Freemium App for Salesforce Webinar on Wednesday, July 11 at 2 p.m. Eastern Daylight Time.
The informative webinar will address the Salesforce app details below:

Easy and quick installation – takes only a few minutes to install app
How to upload documents from hard drive or Salesfore's Notes and Attachments
How to send document for eSignature from Salesforce Opportunity
Review reporting of eSignature request status in real-time
Freemium details including 20 free eSignature sends per month per organization and unlimited users per organization
And much more!
The complimentary webinar will include a product demo followed by a short Q&A period for attendees.
Register Now
Visit http://bit.ly/SalesforceFreemium to sign up for Sertifi's Freemium App for Salesforce Webinar on July 11. To find out more on how Sertifi automates the last mile in the sales process, call 1.866.983.8877 or visit their website at http://www.sertifi.com.
Skip the Webinar and Install Now
To install Sertifi for Salesforce, visit Sertifi on the AppExchange at http://bit.ly/SertifiSalesforce. You can also contact sales(at)sertifi(dot)com to get started using the freemium service.
About Sertifi
Based in Chicago, Sertifi provides business tools that speed up the last mile in the sales process enabling sales teams to shorten their sales cycle and increase close rates. Sertifi's business tools allow companies to better collaborate with customers, close and execute agreements with electronic signatures, and track status in real-time.
Sertifi provides the industry's leading Web service API, which enables integration into existing systems, or pre-built connectors into leading platforms such as Salesforce and Microsoft Dynamics CRM. Sertifi is trusted by leading companies including CareerBuilder, Microsoft, Pitney Bowes, and the U.S. Air Force.