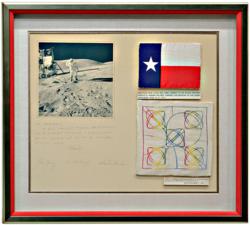 Charlie got it out and rubbed it on the moon's surface. It is framed, so if it has any dust on it, it's moon dust!
- Mrs. Darrell Royal
(PRWEB) October 26, 2012
While there are many true legends that call Austin their home, former University of Texas football Coach Darrell K and Mrs. Edith Royal and renowned restaurateur and designer, Beau Theriot, definitely belong on that list. On November 11th, 2012 at 11am CST Austin Auction Gallery will host an historic auction event featuring sports memorabilia and antiques from the private collections of both.
"The Coach," as he is known by many, is the winningest coach in the University of Texas Longhorn history serving from 1957-1976. He and his wife Edith have shared their lives together for more than 65 years making their love of football, country music, friendships and triumph part of it all.
For the Royals, this will be a way to share some fond memories with UT fans and friends. Mrs. Royal said that she and Darrell truly treasure all of the awards and mementoes being offered at auction, but have found a need to downsize. "I'm hoping that Darrell's fans will be the ones that purchase the UT things and they will treasure them like we have," said Edith Royal. "I love the memories – it was fun to rediscover them."
The 'Royal Collection' contains sports memorabilia including University of Texas Championship rings, signed footballs, vintage programs and signed photos. Also included are three rare Apollo moon flags, originally presented to Mr. and Mrs. Royal as gifts by the lunar astronauts. The highlight is a Texas flag carried to the moon on the 1972 Apollo 16 moon mission, signed by astronauts Charles Duke, John Young, and Ken Mattingly. Included is a photo of Charles Duke with arm outstretched and note to Darrell Royal, "I could not quite come up with a hook um horns sign." The flags were loaned to the Lyndon Baines Johnson Library and Museum, by the Royals, as part of the exhibit To the Moon: The American Space Program in the 1960s, which ran until the 40th anniversary of the Apollo 11 moon landing in 2009. As for this particular flag, Edith Royal said, "Charlie got it out and rubbed it on the moon's surface. It is framed, so if it has any dust on it, it's moon dust!"
The 'Theriot' collection is comprised of antiques and artifacts personally collected from around the world by iconic restaurateur, designer and builder Beau Theriot.
In the early 1980s, Mr. Theriot wanted to open up a hamburger joint on Lake Travis. His idea eventually turned into The Oasis, which has been open since 1982 and is recognized as the Sunset Capital of Texas. His creative journey started in Houston with the classy Brownstone Restaurant. Theriot has won recognition for over a quarter century for his work as an interior designer which began when patrons noticed his exquisite taste in decorating The Brownstone.
"For the last 40 years, I have been an incurable collector and I've never bought anything that I did not want myself," Theriot said. "If I'm going to keep collecting, it is time to let other people enjoy these beautiful things."
From the Orient to Brazil, 'The Theriot' collection boasts fine antiques and home décor. Perhaps the most interesting piece to cross the block is a Western painting entitled, 'The Bank Robber', by Gary Lynn Roberts (Texas, Montana, b. 1953). The painting measuring 48"h, 72"w is the only surviving piece of art from a fire that consumed the original Oasis restaurant in 2005. Other highlights include a Continental Baroque cabinet, 18th c., elaborately carved in relief with winged cherub masks and fruit pendants. A selection of Maitland-Smith furniture and lighting will also be offered. A pair of cloisonné enamel palace urns measuring 51"h head a large group of Chinese antiques.
"We are selling rare, beautiful things in the auction," Jeff Hayes, the new director of operations for Theriot Retail Interests, LP said. "Each piece represents a period of time or place geographically where Beau traveled, and is dear to him."
In early 2012, Edith Royal created the Darrell K Royal Research Fund for Alzheimer's Disease.
A portion of the proceeds from both collections will be donated to the DKR Alzheimer's Research Fund.
Austin Auction Gallery has conducted fine antique and estate auctions in Northwest Austin since 1983. The live auction will be held at 8414 Anderson Mill Road, Austin, TX, 78729. If you cannot attend the auction absentee and telephone bidding are available with a 15% buyer's premium. Live online and absentee bidding is also available via Live Auctioneers, http://www.liveauctioneers.com with an 18% buyer's premium.
For more information on any lot in the auction please visit http://www.AustinAuction.com or contact the gallery directly at 512-258-5479. Ross Featherston, #8069.