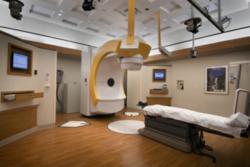 Stereotactic spine radiosurgery results in relief that is faster, more certain and more durable than conventional radiation therapy, said Gene Barnett, MD, the Director of Cleveland Clinic's Rose Ella Burkhardt Brain Tumor and Neuro-Oncology Center.
Cleveland, OH (PRWEB) June 20, 2012
The diagnosis of cancer is given to more than 1 million people in the United States every year. Of these, more than two thirds will likely develop skeletal metastases — lesions from the spread of cancer to the body's bones. Now, there is a revolutionary treatment option for metastases located on the spine - stereotactic spine radiosurgery.
Cleveland Clinic offers this unique, non-invasive outpatient procedure, which can be used as a stand-alone treatment for spinal metastases or as a supplement to other medical or surgical treatments. Stereotactic spine radiosurgery delivers radiation directly into the spine tumor, thereby minimizing the radiation exposure to nearby organs and tissue. Gene Barnett, MD, the Director of Cleveland Clinic's Rose Ella Burkhardt Brain Tumor and Neuro-Oncology Center notes that "Stereotactic Spine Radiosurgery gives much of the benefit of surgery for spine metastases but with virtually no recovery period or pain." Additionally he adds, "If the spine tumor is causing pain, spine radiosurgery results in relief that is faster, more certain and more durable than conventional radiation therapy."
Cleveland Clinic's Spine Tumor Program, established in 2006, provides patients with proven radiosurgery experience and the latest diagnostic and treatment technologies for optimal tumor control and pain relief outcomes. The program was the first in the state of Ohio and one of the earliest in the country, having treated over 450 patients to date.
Traditional treatment options to provide spinal pain relief include analgesics (medications that reduce or eliminate pain), surgery, conventional radiation therapy and chemotherapy. Stereotactic spine radiosurgery offers patients a wide-range of advantages over other treatment options including:

It is an outpatient procedure with proven safe and effective outcomes. In general, stereotactic spine radiosurgery patients can experience local tumor control rates that range from 80 to 90 percent with excellent local pain relief rates that average 80 to 85 percent.
Treatments are typically delivered in one day, so any ongoing chemotherapy that is interrupted can resume immediately post treatment.
Treatment times are often short, averaging around 30 minutes.
Effective therapy option when conventional radiation treatments in the same region have failed previously.
Given the negligible dose of radiation to the fascia and skin, radiosurgery can be undertaken soon after open spine surgery.
This non-invasive modality, versus conventional surgery, chemotherapy or standard radiation results in minimal hospital-based treatment time.
Treatment side effects are typically minor and may occasionally include sore throat, GI upset or fatigue.
Most patients can resume their usual activity level immediately after treatment.
Learn more about Cleveland Clinic's Spine Tumor Program and download a free stereotactic spine radiosurgery patient guide and informational podcast by visiting http://www.clevelandclinic.org/spinetumor.
About Cleveland Clinic
Cleveland Clinic is a nonprofit multispecialty academic medical center that integrates clinical and hospital care with research and education. It was founded in 1921 by four renowned physicians with a vision of providing outstanding patient care based upon the principles of cooperation, compassion and innovation. Cleveland Clinic has pioneered many medical breakthroughs, including coronary artery bypass surgery and the first face transplant in the United States. U.S.News & World Report consistently names Cleveland Clinic as one of the nation's best hospitals in its annual "America's Best Hospitals" survey. About 2,800 full-time salaried physicians and researchers and 11,000 nurses represent 120 medical specialties and subspecialties. Cleveland Clinic health system includes a main campus near downtown Cleveland, eight community hospitals and 18 Family Health Centers in Northeast Ohio, as well as Cleveland Clinic Florida, the Lou Ruvo Center for Brain Health in Las Vegas, Cleveland Clinic Canada, and, opening in 2013, Cleveland Clinic Abu Dhabi. In 2011, there were 4.6 million visits throughout the Cleveland Clinic health system and over 160,000 hospital admissions. Patients came for treatment from every state and from more than 100 countries. Visit us at http://www.clevelandclinic.org. Follow us at Twitter (twitter.com/ClevelandClinic) and Facebook (facebook.com/ClevelandClinic).
The information contained in this communication was developed by Cleveland Clinic's Marketing Department.
For media or interview inquiries, please contact:
Halle Bishop, Media Relations Manager
216.445.8592
bishoph(at)ccf(dot)org