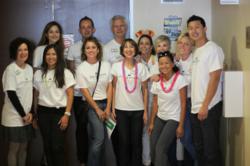 "We hope to continue to inspire by example the tradition of donating and volunteering in our community where we live and work." Francine Finn
San Diego, CA (PRWEB) October 24, 2012
The downtown San Diego office of Windermere Signature Properties celebrated their 2nd annual Community Service Day by re-visiting and volunteering at the Gary and Mary West Senior Center. Windermere Real Estate has a long history of promoting and encouraging franchises of the company to honor the tradition of taking one day a year to have the agents and staff volunteer in their community. Franchise owners, Raye Scott and Francine Finn, enthusiastically supported this concept and for the 2nd year chose the Senior Center for a $1000 donation and the support of their agents and staff.
"We believe in volunteering and giving back to our community" said Scott, " This center provides so many services to low-income seniors and to be able to help in some small way is an enormous honor." According to Brent Wakefield, Director of the center, the $1000 donation will feed about 600 seniors a hot lunch and home delivery to almost 200 more seniors. "The Windermere staff and agents did so much more than just help with lunch service. There was a presentation on tenant rights and an opportunity for the seniors to ask questions. The women, and some men as well, were treated to manicures in a make-shift salon and everyone had the chance to laugh and enjoy themselves by donning costume accessories for the photo booth. The seniors loved it last year and even more this year!" commented Wakefield.
Francine Finn added, "We hope to continue to inspire by example the tradition of donating and volunteering in our community where we live and work. We want to encourage our agents, staff and other businesses in downtown San Diego to give back to those who need it most. Our seniors deserve to live with dignity and respect and when you see that so little can do so much, it is humbling as well as rewarding."
The Gary and Mary West Senior Wellness Center is a model for other agencies around the country providing a full spectrum of services where seniors can enhance their independence, health and vitality. There is a unique collaboration with local universities, the military and other agencies to provide the seniors with needed services and assistance while enhancing the educational and vocational experiences of the students.
Windermere Signature Properties, founded in June 2010 by Raye Scott and Francine Finn, is located in downtown San Diego in the Marina District. As a local franchise of the Seattle based company, they are committed to creating an agency of professional realtors who are dedicated to client service and providing their agents with the tools to achieve that goal. Raye Scott can be reached at 858-229-5424 or Raye(at)ScottFinnHomes(dot)com and Francine Finn at 858-518-5288 or Francine(at)ScottFinnHomes(dot)com.
Jeff Douglass, Broker/Manager
Winderemere Signature Properties
619-481-6300
http://www.windermeresp.com
Jeff(at)560ventures(dot)com