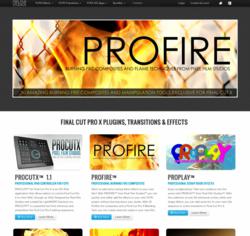 ProFire is the perfect complementary plugin for our popular TransFire transitions pack. There are so many great uses for these fire effects like: music videos, demo reels, action movies and even title sequences
Aliso Viejo, California (PRWEB) March 26, 2013
Film production house and post-production effects makers, Pixel Film Studios, announced the release of ProFire fire elements plugin for Apple's Final Cut Pro X today.
"ProFire is the perfect complementary Final Cut Pro X plugin for our popular TransFire transitions pack," said Christina Austin, CEO of Pixel Film Studios, "There are so many great uses for these fire effects like: music videos, demo reels, action movies and even title sequences."
After experimenting with numerous techniques for creating large sustainable flames, the team at Pixel Film Studios came up several unique ways to capture fire on film, so that filmmakers don't have to.
Fire can create many unique looks on film. It can be used as a physical portrayal of how a character is feeling, or even create the illusion that the film reel is actually burning, or fire can be simply used as a cool effect in a music video or demo reel. The options are endless.
With the ProFire Blending Tool, editors can change the look of their fire completely inside of Final Cut Pro X. By dragging and dropping the tool on top of their composite footage, editors can easily change the color, size, blur, and position of their fire. More advanced users can experiment with compounding and blending multiple composite clips to create unique and dense fire elements.
Pixel Film Studios dangerously and meticulously created these explosive fire elements to work directly with FCPX. Any editor can use ProFire to create energetic styles and themes in their next Final Cut Pro X project, by simply dragging and dropping one of the fire techniques on top of their clips and turning up the heat.
Established in 2006, Aliso Viejo, California-based Pixel Film Studios is an innovative developer of visual effects tools for the post-production and broadcast community. Their products are integrated with popular non-linear editing and compositing products from Apple FCPX. All Apple, the Apple logo, and Macintosh are registered trademarks of Apple Inc. in the U.S. and/or other countries. All other trademarks and trade names are the property of their respective owners.