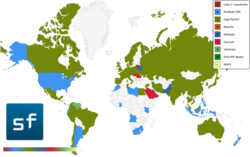 The tens of thousands of dedicated ERP, CRM, accounting and technical professionals who use xTuple software are our greatest single asset as we disrupt the cozy, bloated world of traditional ERP software.
Norfolk, Virginia, USA (PRWEB) March 01, 2013
xTuple PostBooks ERP is voted by the open source community as SourceForge Project of the Month (POTM), CEO Ned Lilly announced, highlighting the hugely important role the global community of open source users plays in the company's ongoing development.
SourceForge, the largest, most trusted destination for open source software discovery and development on the Web, is one of the primary ways that xTuple's free and open source software (FOSS), PostBooks ERP, is distributed. IT professionals worldwide use SourceForge to develop, download, review, and publish FOSS. To-date, according to SourceForge, the site has over 320,000 projects downloaded five million times each day and over 40 million unique visitors monthly.
And the nominees in order of voting totals:
1. PostBooks ERP –Winner of Project of the Month!
2. SuperTuxKart, a kart racing game featuring Tux and friends
3. Cube 2: Sauerbraten, a powerful redesign of the Cube 3D game engine and FPS game
4. DVDStyler, a cross-platform free DVD authoring application
5. GnuCash, a personal and small-business finance manager with a check-book like register
6. PokerTH, a poker game written in C++/Qt, includes the popular Texas Hold'em poker variant
7. Simutrans, a transport simulation game
8. Skim PDF Reader, a utility to read and annotate scientific papers in PDF
9. KDiff3, a platform-independent graphical text difference analyzer for up to 3 input files
"The tens of thousands of dedicated ERP, CRM, accounting and technical professionals who use xTuple software are our greatest single asset as we disrupt the cozy, bloated world of traditional ERP software," said xTuple CEO Ned Lilly in his letter to the community during the voting period. "You make our product better every day, and you keep us honest. In return, I hope you feel we provide a good value for your business and conduct ourselves in an open and transparent way."
xTuple brings the discipline of a real enterprise-level product to open source. Using the SourceForge portal, xTuple can be downloaded and installed, enabling the user to run a full ERP system in no time. The open source ERP community then drives a relentless pace of improvements and refinements to the product. Every user – from the two-person startup using the free PostBooks Edition to Global 1000 enterprises using commercial Editions – benefits from the constant cycles of innovation that make the xTuple open source ERP system so powerful.
"It is terrific for xTuple to be voted Project of the Month (POTM) on SourceForge," said open source champion, Marc O'Brien, vice president of business development for xTuple. "The open source community worldwide – and xTuple community, in particular – responded immediately after PostBooks was nominated. Open source PostBooks and commercially-supported xTuple solutions are replacing legacy and proprietary ERP vendors at an accelerated pace. Exposure as SourceForge's POTM will ensure the word spreads. When organizations evaluate, they clearly see the benefits of migrating to xTuple's solutions."
With still a few days left to vote, xTuple was cautiously optimistic about the win. PostBooks ERP user Ziad Fazel emailed xTuple marketing vice president, Missy Schmidt, to advise her of his "decisive and eagerly sought vote." The community of ProjectLibre users, who also use PostBooks ERP, jumped in, bringing an influx of much-needed votes in the final hours of voting. (Downloaded over four million times in nearly 200 countries, ProjectLibre is the open source replacement for Microsoft Project.)
Messages via Twitter included:
Mexico-based follower: "XTuple I have implemented in my company, catering service, with a base of 6,500 recipes, and with a base of 2800 inputs or ingredients, http://www.apisa.com.mx, I'm production systems consultant for 20 years, and I prefer xTuple for their potential and ease of use, control of production to about 4000 customers a day, 5 restaurants in business, it has become easy."
Virginia-based builder: "Postbooks... need I say more?"
Austin, Texas-based @ZanthanGardens: "Garden bloggers go with xTuple ERP cuz it helps businesses grow."
Tech startup guru @keithprivette: "Vote for PostBooks ERP!!"
India follower: "Postbooks is the best!!"
Atlanta, Georgia, follower: "Great #ERP app helping hundreds of 1000's companies world-wide. A business management solution with all the functionality of its commercial peers."
Michigan-based follower: "Postbooks has a great community following."
Another follower (no-location): "Postbooks Xtuple is an open source, free ERP suitable for various industries. It is very often underestimated. The more you use it the more you like it"
As further testament to the power of the open source community, xTuple recently produced a "Greatest Hits Volume Two" album, a list of significant enhancements to the xTuple code base contributed by customers and community users from 2008 to 2012, a follow-on from Volume One (2004-2008).
xTuple's SourceForge Project page: From the World's #1 Open Source ERP: Get your free Accounting, CRM, ERP package for small- to mid-sized businesses. Runs on Linux, Mac, Windows AND Mobile (built with open source Qt framework). Business logic resides in PostgreSQL database. Rich API for connecting to third-party apps. Learn about commercial editions and features plus free user registration, demos and trial offers on our website, xTuple.com.
About xTuple
xTuple business management software gives growing companies control over operations and profitability. xTuple integrates all critical functional areas in one modular system: sales, accounting and operations – including customer and supplier management, inventory control, manufacturing and distribution – the powerful tools to Grow Your World®.
As a commercial open source company, xTuple works with a global community of tens of thousands of professional users. xTuple gives customers the ability to tailor solutions with multi-platform support for Windows, Mac, Linux and mobile as well as flexible licensing and pricing options. Connect with the company at xTuple.com, with the open source community at xTuple.org, and join the innovation conversation at NextBusinessBlog.com.
Reference the xTuple Style Guide (xSG): http://www.xTuple.com/xSG