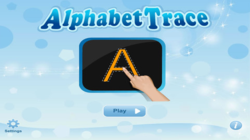 After visiting several schools and therapy centers in the New York-New Jersey area, we have seen that a vast majority of kids with autism simply love to play games on the iPad and Android devices
Somerset, New Jersey (PRWEB) March 14, 2013
Educators and teachers working with children with autism agree that tracing can enhance fine motor skills of preschoolers. Alphabet Trace, which is a part of the iLearnNEarn App Series for individuals with autism and other special needs, is a digitized and interactive version of traditional tracing worksheets that are commonly used as a primary teaching tool in the classroom, according to a WebTeam spokesperson.
"After visiting several schools and therapy centers in the New York-New Jersey area, we have seen that a vast majority of kids with autism simply love to play games on the iPad and Android devices. Since iLearnNEarn is already popular with these children, we believe teachers now have a great opportunity to teach their students using a medium they are familiar with," said Neha Dubey, member of the iLearnNEarn team at WebTeam Corporation.
"Developing motor skills is always a challenge for students with autism. This particular app will help them develop this skill in a very simple setting. Our goal as a technology company is to utilize the affinity and liking of the special needs population to help them develop the motor skills in a fun way. Our individualized approach of having different levels of accuracy for each child makes our app unique and a standout performer," said Nish Parikh, CEO of WebTeam Corporation and creator of the S.H.A.N.E.S.H. Colors Program (Shanesh COLORS) for early autism intervention.
"Alphabet Trace does not just boost hand-eye coordination of young learners on the spectrum, but also helps them develop basic writing skills and learn the English alphabet," noted KJ Sharma, senior advisor to WebTeam Corporation.
Designed for special needs children aged 2-7 years, the autism app comes with a highly customizable Settings part where users can enable/disable features such as background music and training, and can also set Play Order (Random or Sequential) and Accuracy Level (Easy, Medium or Hard) as per the child's preferences and skill levels. Moreover, users can also select Rewards from a set of three options – Teddy Bear, Ball and Star. The Timer option lets the learners customize the duration for each tracing activity.
"Currently we have an inventory of more than 125 autism apps on iTunes and Google Play. But we want to further expand the iLearnNEarn library by developing new apps covering other learning areas," Parikh said, adding that WebTeam Corporation has set its goal to develop curriculum-based apps in near future.
About iLearnNEarn Series of Apps for Autism
iLearnNEarn is WebTeam Corporation's flagship special education model based on applied behavior analysis aka ABA. It delivers synchronized and holistic intervention to schools and homes utilizing touchscreen and kiosk based systems. What iLearnNEarn also does effectively is provide instant reinforcements to help the child master a particular lesson in different settings. In doing so, the autism intervention program allows parents to teach the same lessons kids learn in the classroom, where teachers can tweak the activities depending on each student's acquired skill levels and learning needs.
About WebTeam Corporation
WebTeam Corporation (WTC) has been working closely with leading industry experts, teachers and professionals to bring about a positive change in the lives of individuals with autism spectrum disorders. The technology-driven company has been developing apps for autism and other special education needs since 2006. S.H.A.N.E.S.H. Colors (Shanesh COLORS) – WTC's patent-pending technology – has been a buzz on the market of late, offering an innovative special education model to parents, teachers, therapists and professionals involved with the autism community worldwide.