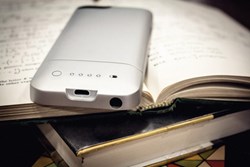 Denver, Colorado (PRWEB) March 11, 2013
According to the company iPhone 5 is the kind of investment that strains customers budget, even after the initial purchase. There's the data plan, the app purchases, the protective jacket and lastly the external battery case.
The standard non-removable Li-Po 1440 mAh battery is just not enough for what iPhone 5 and iOS 6 can offer and according to a recent report available at http://www.iPhone5batterycase.net, iPhone customers feel the need for extra power.
According to the company it is still soon to pinpoint the best battery cases for iPhone 5 in 2013, but from what accessory makers have announced so far there are at least three that will definitely remain top of the list by the end of the year.
1. uNu Extended Battery and Ecopak Detachable Snap-On Case for iPhone5
Extended battery cases are new to the market, so the offer is still short, however the uNu Ecopak detachable battery case for iPhone 5 stands out of the crowd. The Snap-On case features a sleek design and the detachable battery is amongst the prettiest looking ever today. The uNu Extended Battery Case features a 2500 mAh battery that will double iPhone 5's battery life. The whole package costs $80 and it is quite top of the list when it comes to design that matches Apple's iPhone 5.
2. Esorun iPhone 5 Battery Case with MFI Authorization
When it comes to the battery case that packs most power, the Esorun iPhone 5 Battery Case with Apple's MFI authorization is the first choice according to the company. This power accessory for iPhone 5 packs a built-in 3000mAh Li-Polymer battery that will triple the battery life. The maker prides itself for having obtained Apple's MFI certification, which is a confirmation the product is compatible with iPhone 5's new Lightning dock.
3. BoostCase Snap-Case and Hybrid Battery Case for iPhone 5
Many battery cases for iPhone 5 lack a design that matches the awesomeness of Apple's smartphone. BoostCase had a different idea for its Hybrid Battery case, although it doesn't even come close to uNu's product in terms of design. The company released a Snap-On case with tiny dots lining the backside, perfect for adding all kinds of accessories, including a battery pack. It uses a 2,000 mAh battery to recharge any iPhone in an hour an half.