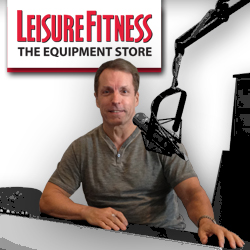 We are very happy with the radio show, and excited to offer the show as an iTunes podcast for those who are not able to listen live.
Baltimore, MD (PRWEB) March 29, 2013
The "Be Fit, Stay Fit Radio Show" relaunched in October of 2012 with host Dr. Paul Kennedy and is now offered for free on iTunes as a Podcast with all weekly episodes available now.
The show includes information on cardiovascular fitness, weight management, strength training, sports nutrition, and the fundamentals of starting an individualized fitness program. Listeners are encouraged to become part of the show by calling in with their fitness questions.
The host, Dr. Paul Kennedy, is currently the Fitness and Wellness Community Outreach Director for Leisure Fitness. His extensive fitness background includes serving as a strength and conditioning coach at two major universities (Penn State University and Rutgers University) and directing the nationwide personal training program at Bally Total Fitness. He is also the former host of the television show "Be Fit Stay Fit America" in Phoenix, Arizona.
Paul Bastianelli, Chief Executive Officer for Leisure Fitness the Official Sponsor of Be Fit, Stay Fit Radio commented, "We are very excited about the success of the radio show thus far, and are happy to provide our listeners with the ability to download the shows via podcast to their mobile devices."
"Be Fit Stay Fit America" airs every Saturday morning from 7 to 8am on Baltimore's 105.7fm WFAN. To join the show, call 105.7 The Fan's hotline at 410-583-1057.
For listeners out of the area or to catch up on previous show, check out the Be Fit, Stay Fit America Radio web page for live streaming of the show, and an archive of past shows.
To Download Be Fit, Stay Fit Radio Episodes via Podcast please go to iTunes – Be Fit, Stay Fit Radio Podcasts.
About Us: Leisure Fitness is a fitness equipment company providing high-quality fitness equipment for your home, office, or corporate setting. Equipment available at Leisure Fitness includes treadmills, elliptical cross trainers, home gyms, rowing machines, free weights, and accessories. Leisure Fitness provides an educated, experienced staff of fitness specialists who are knowledgeable about all the equipment's capabilities and performance specifications and trained to identify a customer's need and fit them with the appropriate fitness product.
For additional information about the "Be Fit Stay Fit America" radio show, contact Anne Stephenson, at 302-224-5062.