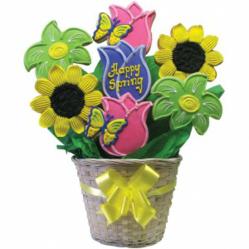 Islip, NY (PRWEB) March 14, 2013
For the Best 2013 Easter gift basket ideas, there's definitely no one more creative than Clever Cookie. Shifting from the norm, the company excels in innovating gift ideas with exquisite cookie delicacies. This year on Easter, what could be better than an amazing Easter Gift Basket, loaded with brilliantly designed thoroughly baked cookies! To fulfill the demands of its valued customers, the company has launched an amazing array of splendid cookie Easter gift basket ideas on their website. This Clever Cookie Easter Extravaganza has already kicked off.
Every year on Easter, adults look for different ideas to surprise their kids in the form of presents and Easter Gift Baskets. In all these years, a significant number of children already have come across a massive number of ordinary baskets, filled with generic eggs. The element of surprise was thought to be diminishing seriously. Now with Clever Cookie's Easter Cookie gifts, parents have a great opportunity of presenting their children with something they'll remember for a long time. Not only is a cookie gift basket extremely presentable, its contents are equally enjoyable. With exquisite designing, shaping and decorating, the cookies look extraordinary, to say the least.
To enhance the level of excitement for both the parents and the children, every order placed above $100 will provide the customers with a chance of designing their own baskets, any way they like! Also, customers are encouraged to visit the company's Facebook page for a chance to win free cookies.
"We believe our cookies have innovated the way people used to give gifts to their loved ones, we're planning on taking things to a whole new level this Easter!" says Howard Saffeir, at Clever Cookie.
For over 20 years, Clever Cookie has helped customers across the country find a unique way to enjoy special occasions and gift-giving of all sorts with their delicious and intricately designed cookies. Having been featured in numerous magazines and TV shows, including the Today Show and Food Network, Clever Cookie continues to expand its line of cookie creations, which includes sugar free cookies, Kosher cookies, giant cookies, and cookies that feature child favorites such as Dora the Explorer and SpongeBob SquarePants.
To visit Clever Cookie's website, click http://www.CleverCookie.com. For the Facebook page, visit https://www.facebook.com/pages/Clever-Cookie/472426086112131
About Clever Cookie:
Clever Cookie was founded in 1991 by sibling entrepreneurial spirits Lisa and David, who determined that cookies should be more than sweet treats—but creative confections that delight cookie-lovers of all ages! The company has been showcased numerous times on both print and electronic media and continues to gain popularity with an ever increasing clientele. To learn more, visit Clever Cookie's main site at http://www.clevercookie.com/
Contact:
Howard Saffeir
http://www.clevercookie.com/
info(at)clevercookie(dot)com
1-800-237-8443