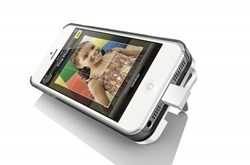 Denver, Colorado (PRWEB) March 16, 2013
More and more iPhone 5 users have found that their devices need accessories that boost certain attributes and enhance their user experience.
According to http://www.iPhone5Batterycase.net review, an iPhone 5 is not a cheap gadget and to make sure the device will survive and remain in a good condition to be sold again for a satisfactory price, 70 percent of users invest in a case. But users have developed a taste for improved performances and expect from iPhone 5 accessories a lot more than just protection.
Hence, battery cases have become a very appealing purchase for lots of iPhone 5 owners today. There's a particular interest for battery cases with added functionality, such as Wi-Fi enhancing technology, sleek design, kickstands and interchangeable covers and overall functional design. These are features that oftentimes help justify the hefty price tag for buyers that are limited to a certain budget.
iPhone5BatteryCase.net is a website that aims to help the iPhone 5 owners find the most appropriate battery case based on design, level of protection, mAh power of the battery, added accessories (hand-straps, kickstands, portable wallet, interchangeable smart covers, Wi-Fi enhancing technology), MFI certification and price.
Given the recent release of iPhone 5, iPhone5BatteryCase is currently readjusting its list of the best battery cases for Apple's newest smartphone. The new reviews look at the iKit NuCharge battery case, the iBattz Mojo Hi5 case and the i-Blason PowerSlate Plus for iPhone 5.
The first full review in the newly released series looks at a top-notch power accessory for iPhone: the iKit NuCharge, with slim design, MFI certification, a 1900mAh Li-polymer battery and interchangeable smart covers.
Ironclad Integrity Ltd has released the iPhone5BatteryCase.net website shortly after accessory producers announced the first battery case for iPhone 5. At the time, more and more users complained their iPhone 5 standard battery life couldn't withstand their desired usage so the battery case attempt to meet their expectations in terms of protection and extra power needs. Reviews available on the website take into account every single battery case for iPhone 5 available in the market today. Writers look at design, durability, quality, price, discounts, Apple certification, similar products and much more.