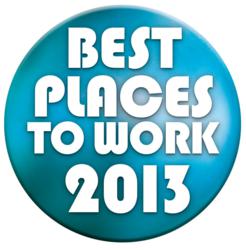 This nomination has nothing to do with sales, revenue, profits or other financial metrics; it's all about our people and our culture. - Ben Sayers, VoIP Supply CEO
Buffalo, NY (PRWEB) March 28, 2013
For the sixth time in the company's 10 year history, VoIP Supply was named to the 2013 class of Western New York's Best Places to Work by Buffalo Business First newspaper.
The 2013 Best Places to Work award, sponsored by Buffalo's Business First newspaper and Quantum Market Research, recognizes companies in the Western New York area that foster the best and most innovative work cultures.
Sponsors invite hundreds of Western New York businesses to participate in an online survey where employees voluntarily share opinions on their work environment.
Survey questions include topics such as co-worker attitude, teamwork, working relationships, and supervisor feedback.
Finalists for the award are companies that:

Maintain high standards of accountability
Create an exceptional customer experience
Cultivate a great company culture
Have core values that are supported by both management and stakeholders
"The Best Places to Work award is one that we cherish and strive to earn every year," said Ben Sayers, CEO of VoIP Supply. "This nomination has nothing to do with sales, revenue, profits or other financial metrics; it's all about our people and our culture."
"It's wonderful to witness the passion and determination of our people work collectively to create new ideas, bend over backwards to help each other and their customers, and generate the positive energy that empowers our culture. I'm proud of each one of them, thrilled to work by their sides, and thankful every day for their effort and determination to exceed expectations."
To learn more about VoIP Supply, please call 800-398-8647 or, visit http://www.voipsupply.com.
About VoIP Supply
We are a place of uncovering, cultivating and developing leaders. A world class place to work with big goals, a clear vision, defined purpose and a dedicated team of passionate business professionals. We love what we do and do it better than any of our competition.
Since 2002, VoIP Supply has been the leading supplier of VoIP equipment and complete VoIP solutions in North America. We are known in the industry as responsive and knowledgeable VoIP product experts.
With everything you need for VoIP, VoIP Supply has grown rapidly throughout the years. VoIP Supply is a three-time Inc. 500/5000 honoree, listed by Business First as one of WNY's Most Admired Companies, as well as one of Western New York's Best Places to Work for many consecutive years, including 2012. VoIP Supply is also the first and only Certified B Corporation in Western New York.