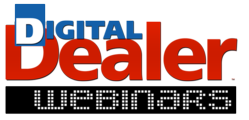 Nashville, TN (PRWEB) March 28, 2013
For over seven years, Top Dealers have engaged with Dealer Communications to obtain the latest in dealership technologies and strategies to break into the digital market. The latest webinar website features more visible sponsorship, improved accessibility for both Dealer Communications' subscribers and visitors, and a simplified registration process.
DD Webinars give dealers and managers the opportunity to learn from industry professionals from the comfort of their office. Interactive access to hand-picked leaders of retail marketing and auto industry prowess is now more accessible, and easier to use.
The newly designed platform features an upcoming webinar from Mike Stoll, ADP's Professional Services Director. His webinar entitled "Is 100% Service Absorption a Myth?" will reflect on over 36 years of retail experience designed to help dealerships win back service customers and learn successful business strategies. This complimentary webinar will air live April 18th, 2013 at 11:30 AM EST/8:30 AM PST. Register free at dealer-communications.com/webinars/
About Digital Dealer Webinars
Digital Dealer Webinars are a long-standing service provided by Dealer Communications to Dealers Nationwide. Webinars include interactive experiences with Industry Professionals, developed for any department in the Dealership to gain experience in marketing and sales, both on-line and on the lot. Enhancement opportunities, past webinars and webinar registration can be viewed at Dealer-Communications.com/webinars.
About Dealer Communications
Dealer-Communications.com is the industry's most comprehensive news source for daily content across the automotive landscape. Each day Dealer-Communications.com delivers relevant, actionable business intelligence on a variety of issues covering retail, OEM, sales, management and other key areas of dealership operations. If the information is relevant to franchised dealerships, you'll find it on Dealer-Communications.com.
Dealer Communications also publishes online weekly newsletters include Dealer; Digital Dealer; Dealer Fixed Operations; Dealer Pre-Owned; Dealer F&I, and Dealer Sales and Marketing which offer targeted business information tailored to specific departments within franchised dealerships.
The Digital Dealer Conference & Exposition is the premier educational conference and expo dedicated to Internet and technology solutions for automotive professionals. Digital Dealer events deliver the largest array of speakers, peer to peer opportunities, and exhibit hall offerings – all carefully designed to impart cutting edge business strategies. With an audience of the industry's most progressive dealers and managers and the most innovative conference format, Digital Dealer provides the ultimate learning and networking environment.