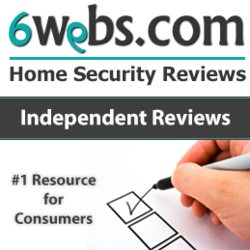 Compare the features and services of the leading home security monitoring providers on 6Webs.com.
Columbus, OH (PRWEB) March 04, 2013
6Webs.com, the leading home security reviews sites, released their reviews and rankings of the best home security system providers in 2013. Each year 6Webs.com publishes independent reviews of the nation's top home security system providers. Dozens of companies are reviewed each year but only the top security providers earn the 6Webs.com coveted awards.
Tim Smythe, the senior editor for 6Webs.com stated, "The 2013 reviews were not that surprising as our Gold Award winner for 2012 also took the Gold Award in 2013. When the 6Webs.com review team conducted the FrontPoint Security review and compared their findings to last year's results, it was clear that FrontPoint Security upheld their outstanding customer service record and continued to deliver the best home security system in the market by the 6Webs.com review team's standards."
The top two home security system companies for 2013 are FrontPoint Security and Protect America. Both home security system companies offer their customers wireless home security systems at an affordable price.
FrontPoint Security, the 2013 Gold Award winner, was voted the number one home security company from 9 out of 10 editors on the 6Webs.com review team. FrontPoint Security offers their customers 100% cellular monitoring services, a 30-day money back guarantee and remote access via an iPhone or Android device. According to 6Webs.com, they are the clear leader in the home security market. For more information on what the 6Webs.com review team had to say when conducting the FrontPoint Security reviews, visit 6Webs.com.
The 2013 Silver Award winner is Protect America. Protect America offers their customers affordable home security system packages that can be customized based on the consumer's individual needs. Like FrontPoint Security, Protect America provides mobile access from an iPhone, iPad or Android device where customers can remotely arm/disarm their alarm system or set it up to send them text message alerts when events occur at the home. To view the full Protect America reviews, visit 6Webs.com.
The 2013 Bronze Award winner is ADT Security. ADT Security offers a their customers professional installation services for their wireless home security systems with both phone line and cellular monitoring options. To view the full ADT Security review, visit 6Webs.com.
The 2013 home security comparisons can be viewed at 6Webs.com, where the services and features of the leading security companies are available:
http://www.6Webs.com/home-security-systems-reviews/
About 6Webs.com
6Webs.com is focused on delivering independent and unbiased reviews of the top home security system companies in the nation. 6Webs.com conducts annual reviews where a team of home security professionals individually investigates, reviews and ranks home security companies based on their findings. The results of this annual review process are published on their website to assist home security shoppers with purchasing the best home security system for their family.