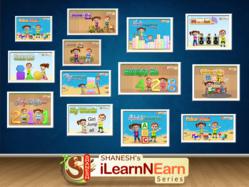 The scheme will allow iLearnNEarn users not just to connect with their friends, colleagues and acquaintances, but also to involve them actively. We are putting the project on the fast track, hoping for a spontaneous response from all our friends
Somerset, New Jersey (PRWEB) March 31, 2013
In conjunction with developing iLearnNEarn 2nd Generation program to teach children with Autism, WebTeam Corporation is also looking to reach out to more people from the autism community through iLearnNEarn Referral Scheme. The new program will allow existing iLearnNEarn users to ask their friends and family for a referral and also to try the program for free for 15 days. The persons being referred to by a particular iLearnNEarn user may also wish to enroll themselves for the program or simply pass the message to someone they think would have a better claim to the popular autism education model using Apps based program for young children with Autism.
For the first 15 days in the month of April, our users will receive acknowledgements and secure an extension of his or her iLearnNEarn subscription or get new free subscription for extended days to tryout innovative touch-screen based Autism intervention program which utilizes evidenced based intervention method of ABA . During the last Autism Awareness Month, iLearnNEarn users will be able to get multiple extensions based on the referrals.
"The Autism Awareness program for iLearnNearn will allow our users not just to connect with their friends, colleagues and acquaintances, but also to involve them actively for sharing ideas on how to make the intervention cost effective and intense. We are putting the project on the fast track, hoping for a spontaneous response from all our friends from the autism community globally," said Deepali Harchandani, member of the development team at WebTeam Corporation.
"With 1 in every 50 children in the US being diagnosed with autism each year, it is high time we spread the word of awareness. And there is no better way of doing it than by actually asking the people we know – they could be our friends, family or the people we meet at school or office every day. The bottom line is that we have an opportunity to tell parents, teachers and therapists to have a look at the technology we have developed from the research and development in past 5 years and put to use. Many of our friends are in fact looking for a special education program that is in sync with what is being taught in the classroom and at homes. iLearnNEarn fits the bill perfectly when it comes to delivering intervention, collecting data and tracking each student's progress. What we know is that many parents, teachers and professionals are yet unaware of the benefits of technology for autism, and we want to reach out to these people," said Nish Parikh, CEO, WebTeam Corporation and the brain behind the iLearnNEarn Series of Apps for Autism.
About WebTeam Corporation
WebTeam Corporation (WTC) has been working closely with leading industry experts, teachers and professionals to bring about a positive change in the lives of individuals with autism spectrum disorders. The technology-driven company has been developing apps for autism and other special education needs since 2006. S.H.A.N.E.S.H. Colors (Shanesh COLORS) – WTC's patent-pending technology – has been a buzz on the market of late, offering an innovative special education model to parents, teachers, therapists and professionals involved with the global autism community.