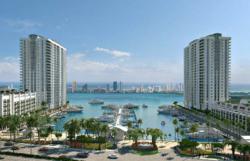 ...thanks to lack of supply and a surge in investment from abroad, life in this famous city is good again for property investors.
(PRWEB UK) 15 March 2013
Cash rich Latin Americans were some of the first investors on the scene in Miami as the market hit bottom, however last year housing stock levels fell to their lowest point since the peak of the housing boom and this has had the effect of jump-starting Miami back to life according to Colordarcy analysts.
Loxley McKenzie, Managing Director of Colordarcy commented, "It was only back in 2010 that people were writing off property in Miami and the state of Florida – however now, thanks to lack of supply and a surge in investment from abroad, life in this famous city is good again for property investors.
Prices are still climbing back towards their true value, yet still 50% from their peak and rental demand remains strong for long-term lets – so we can safely say that Miami is one of the best locations to invest in property and profit in the US."
Single-family property prices in Greater Miami rose 11.2 per cent year-on-year to January from a year earlier. This was even higher than the Florida property bounce of 9.7% in the same period. (Source: Miami Herald 'Miami area real estate values up 11 percent in 2012, March 6th')
Miami Beach properties in Kendall added a further 1% of growth in January alone, proving that the appetite still exists even for property where you can park a yacht or just sit back and enjoy the views we normally only get to see on all the US TV shows.
This is all good news for property investors and there are signs that interest from South American investors may increase further this year.
As Latin American countries benefit from rising incomes and living standards, they naturally head to cities like Miami to invest where property now seems good value.
Cash rich investors from Brazil are also happy to make large down payments on property – sometimes as much as 80% to secure their own piece of Miami according to recent reports on Reuters.
This means that we are unlikely to see a repeat of conditions in 2006 where the majority of investments required only a 10% deposit in Miami. The best real estate in Miami may soon become harder to find as more foreign investors move in with big cash deposits and do battle to secure the best property.
With political instability likely to be a feature in countries like Venezuela we could soon see a new influx of investors looking for a safe haven to invest their wealth.
Investors from Venezuela already make up a sizable proportion of investors in Miami property already and they are likely to do so again this year – if the transition of power in their country fails to run smoothly.
Deals on the best luxury property will become harder to find, making investing off-plan in Miami or tenanted properties in downtown Miami the best options in 2013.
Notes to the editor:
Colordarcy is a leading property investment company that specialises in finding positive cash flow investment properties worldwide. Colordarcy investment property portfolio includes some of the best properties for sale in Brazil, Florida, Turkey and the United Kingdom.
For more information, supporting pictures or logo artwork, please contact:
Brett Tudor
PR Manager
Tel: +44 (0) 207 100 2393
Email: press(at)colordarcy(dot)com
Web: http://www.colordarcy.com/