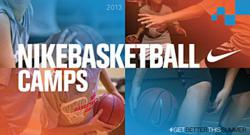 There will come a time when the winter will ask what you did all summer. How will you answer that question?
San Rafael, CA (PRWEB) March 11, 2013
US Sports Camps, Inc. is pleased to offer several new summer basketball camp locations for both boys and girls. The 2013 schedule features camps from coast to coast with overnight and day camp offerings. The Nike Basketball Camp lineup is headlined by new day camp locations at Canterbury School in Fort Myers, FL (Co-ed) and USA Sports Academy in Columbus, OH (Boys and Girls sessions); and new overnight locations at University of San Diego in San Diego, CA (Girls) and Clarkson University in Potsdam, NY (Girls).
Nike Basketball Camps provide focused, intensive training that is essential to improvement for all skill levels. Every facet of the game is covered with an emphasis on fundamentals to help players become valuable team members. At each location, campers are broken into groups with other players of similar age, abilities and goals. Each camp staff does their best to advance players to the next level, keeping in consideration each camper's experience and desire to improve.
Long-time Nike Camp director, Kyle Pottkotter conducts various day camps and overnight programs in Ohio and asks one key question to each camper, "There will come a time when the winter will ask what you did all summer. How will you answer that question?" Adding further, "our objectives are to provide the tools and knowledge to build solid fundamentals while increasing your passion for the game."
Since 1996, Nike Basketball Camps have hosted over 48,000 campers at basketball camps nationwide. Last summer alone, over 6,500 young athletes got better at a Nike Basketball Camp.
"Every basketball player out there is looking to advance their game to the next level – whatever level that may be at the time; you strive to build on your game brick by brick." says VP of Basketball Operations for US Sports Camps, Brent Koonce. "The summer time away from your team is the absolute ideal time to improve your individual skill set to take into the next season. Our dedicated camp directors are here to help you do just that."
About US Sports Camps
US Sports Camps (USSC), headquartered in San Rafael, California, is America's largest sports camp network and the licensed operator of NIKE Sports Camps. The company has offered summer camps since 1975 with the same mission that defines it today: to shape a lifelong enjoyment of athletics through high quality sports education and skill enhancement.
Players, coaches, parents and others interested in the 2013 Nike Basketball Camps can visit ussportscamps.com/basketball/nike or call 1-800-645-3226.