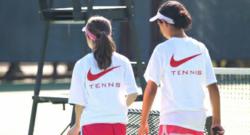 This will be our first spring break Nike Tennis Camp. What a perfect place to kick it off.
San Rafael, CA (PRWEB) March 04, 2013
Nike Tennis Camps, a division of U.S. Sports Camps – the nation's largest sports camp operator – will offer two "mini day camps" for players over the Spring Break as well as six weeks of full and half day camps this summer at Mission Hills Club in Fremont, CA.
"We are excited to announce the addition of Mission Hills Tennis Club to our network of camps," explains Matt Kurlander, Vice President of Nike Tennis Camps. "This will be our first spring break Nike Tennis Camp. What a perfect place to kick it off."
The 2013 Nike Spring Break Mission Hills Tennis Camp is offered April 1-3 and April 3-5 runs Mon- Wed and Wed-Friday and is open to boys and girls of all ability levels, ages 5 - 18. Summer camps will run for six weeks starting June 17th and go to August 2nd. This program is designed to give every camper the opportunity to hit a ton of balls, improve their technique and match play skills, and learn in a fun environment with other players in their peer group. There are a variety of options for campers of all ages and abilities, including the new 10&Under Tennis format for campers ages 5-10.
Directing the camps is Bill Patton. Patton is a USPTA and PTR certified Tennis Professional with 25 years experience coaching, and over 200 units of continued education in Tennis. Team building has always been his specialty, bringing people together to for a cohesive community experience, to go along with his superlative teaching ability and varied activities to teach the whole game.
"It's important for me to have an opportunity to engage with every student on court. I want everyone at camp to get a chance to learn something new and have fun while doing it," Bill emphatically states.
Nike Tennis Camps offer junior and adult overnight and day camps at 74 locations nationwide. The camps provide first-rate instruction, match play, diversified social activities, exposure to life in a university setting – and the chance to build lasting friendships. Our goal is to give players the opportunity to hit thousands of balls, improve their technique, and be challenged by some of the best players in their peer group. More than 240,000 athletes have attended the camps over the course of Nike Tennis Camps' 37-year-history.
About US Sports Camps
US Sports Camps (USSC), headquartered in San Rafael, California, are America's largest sports camp network and the licensed operator of NIKE Sports Camps. Founded in 1975, Nike Tennis Camps is a division of US Sports Camps. What began 37 years ago as one tennis camp is now a national network with more than 500 camps across the country in a wide variety of sports. Players, coaches, parents and others interested in Nike Tennis Camps and US Sports Camps can visit the company's website at USSportsCamps.com/tennis or phone 1-800-NIKE-CAMP.