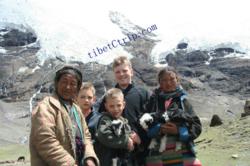 Have a wonderful family vacation in Tibet with local Tibet travel agent www.tibetCtrip.com.
(PRWEB) March 13, 2013
Tibet Ctrip Travel Service-TCTS, a Lhasa based travel agency, has been working to make Tibet travel more accessible to families. Thanks to a rapidly evolving tourist infrastructure, travel in Tibet is easier than ever before. TCTS has several years of experience working with traveling families and understands their need for flexible tour schedule that lets them relax while travel staff take care of all the details. For the 2013 tour season, TCTS will serve family tour group with more new personal features and they will take better care of every family member.
Most family Tibet tours begin in Lhasa; a native Tibetan guide will pick families up from the airport and accompany them to their hotel. It is recommended that travelers rest, relax, and drink lots of water to help acclimatize to the altitude. Over the next few days, families will enjoy a sightseeing tour. Lhasa is home to many of Tibet's most famous cultural and historical sites, some of the must sees include: Potala Palace, Sera and Drepung Monasteries, Jokhang Temple, and Barkhor Bazaar. Even those on a tight schedule will find that just a few days exploring Lhasa allows for many opportunities to learn about Tibetan culture and see every day Tibetan life!
Families looking for an extensive tour of Tibet will find no shortage of options. When planning a trip, it is best for travelers to first focus on deciding what interests them the most, and then begin planning an itinerary around those interests. Some travelers may be looking for a culture-focused tour while others may be interested in a tour that focuses on getting in touch with nature. Overland tours are perfect for families who want to see a large cross section of Tibet without having to over exert themselves in a high altitude environment. Many overland tours, like the route to Mt. Everest or Yarlung Valley, provide opportunities to learn about Tibetan culture and history at monasteries and temples while not missing out on the natural scenery!
A family Tibet tour is certain to create lasting memories, with TCTS's experienced tour staff, families will be able to relax and focus on the mountain scenery and fascinating local culture. A four or five day tour of Lhasa is fantastic for families on a tight schedule, while an overland tour is perfect for those looking for an in-depth experience. Most tours allow for a flexible schedule so families can make stops for pictures and not feel rushed while visiting monasteries and temples! TCTS welcomes any questions. With the best season for Tibet travel right around the corner, travelers are advised to plan early to get the most out of their tour.
Devin Moore provided this new release above for TCTS. Devin is a travel writer and independent economic analyst based in Springfield, Missouri USA. In partnership with local Tibet travel agency TCTS (tibetctrip.com), Devin Moore works to spread awareness of Tibet and its people through publishing Tibet travel information.