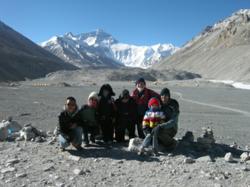 Family tour of Tibet offered by local Tibet travel agency which specialized in Tibet family travel services
(PRWEB) March 26, 2013
Tibet Ctrip Travel Service-TCTS, a Lhasa based travel agency, offers newly enhanced Tibet family travel programs which are more accessible and friendlier to families. Thanks to a rapidly evolving tourist infrastructure, family travel in Tibet is easier than ever before. TCTS has several years of experience working with traveling families and understands their need for flexible tour schedule that let's them relax while travel staff look after all the details. For the 2013 tour season, TCTS will serve family tour group with more new personal features and they will take better care of every family member.
Most Tibet family tours begin in Lhasa; a local Tibetan tour guide and driver will pick families up from the airport or Lhasa Niuwu railway station and accompany them to their hotel. TCTS recommend family travelers rest, relax, and drink lots of water to help acclimatize to the altitude. Over the next few days, families will enjoy an easy sightseeing tour in Lhasa. Lhasa is home to many of Tibet's most famous cultural and historical sites, some of the must sees include: Potala Palace, Sera and Drepung Monasteries, Jokhang Temple, and Barkhor Bazaar. Even those on a tight schedule will find that just a few days exploring Lhasa allows for many opportunities to learn about Tibetan culture and see every day Tibetan life!
Families seeking an extensive Tibet tour will find no shortage of options. When planning a Tibet family trip, it is best for travelers to decide what they are interested in most, and then begin planning an itinerary around those interests. Some family travelers may be looking for a culture-focused tour while other may be interested a tour that focuses on getting in touch with nature. Overland tours are perfect for families who want to see a large cross section of Tibet without having to over exert themselves in a high altitude environment. Many overland tours, like the route to Mt. Everest or Yarlung Valley, provide opportunities to learn about Tibetan culture and history at monasteries and temples while not missing out on the natural landscape scenery!
A family Tibet tour is certain to create lasting memories, with TCTS's experienced tour staff, families will be able to relax and focus on the mountain scenery and fascinating local culture. A four or five day tour of Lhasa is fantastic for families on a tight schedule, while an overland tour is perfect for those looking for an in-depth experience. Most family tours of Tibet allow for a flexible schedule so families can make stops for pictures and not feel rushed while visiting monasteries and temples!
TCTS's Tibet family Travel service features:
1) Tibet Family travel programs suit families of all ages and types;
2) packed with a wide variety of enriching activities;
3) Service with First Aid;
4) Experienced local Tibetan family travel guide with deep knowledge;
5) Flexibility: relax anytime & anywhere;
6) Customization: families' own schedule, budget & preferences;
7) All-inclusive: hotel, sightseeing, guide, transfer;
8) All fun, no fuss;
9) Reasonable family tours prices for add-on family trips of China and Nepal.
Contact info: tibetctrip (at) gmail (dot) come or sales (at) Tibetctrip (dot) com