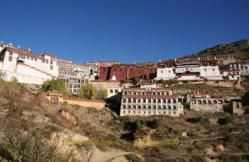 Take a cultural Tibet travel during Tibetan traditional festival!
(PRWEB) March 20, 2013
Travel to Tibet during one of the many festival seasons is a travel experience unlike any other. As apart of its efforts to spread awareness of Tibetan culture, Tibet Ctrip Travel Service (TCTS), a Lhasa based Tibet travel agency, has released newly updated information about travelling to Tibet for the Ganden Thangka festival! The Ganden Thangka festival takes place at Ganden Monastery where thousands gather to witness the unveiling of a gigantic hand woven Thangka (Tibetan cloth tapestry) featuring a Buddha figure surrounded by symbols of religious significance. At over 200 feet wide by 150 feet tall, this is the highlight of many Tibetan's year and is a must see for travelers on a tour of Tibet during festival time.
This year, the Ganden Thangka unveiling will take place on July 22nd (or June 15th in Tibetan calendar). Traditionally, people begin to arrive in the early morning pre-dawn hours. They will climb to the top of a hill near the monastery to watch the sunrise as they chant prayers of personal and religious significance. As the sun rises, it paints the surrounding mountain scenery with gold and red hues. As the day wears on crowds will fill the monastery to pray and leave offerings of incense and yak butter. Excitement builds as the unveiling ceremony begins, and once the Thangka has finally been revealed the crowd rushes forward to touch their foreheads to the giant tapestry. The smell of the incense, the traditional music, and religious fervor of the crowd suspends locals and foreign visitors alike in a dream like state.
With TCTS travelers can make attending the Ganden Thangka Festival part of an in depth Tibet travel experience! Since Ganden Monastery is only about 36 km from Lhasa, travelers short on time can make a quick stop in Lhasa before moving on to their next destination. Upon arrival in Tibet, travelers will spend time in Lhasa acclimatizing to the altitude and becoming oriented with Tibetan culture at Lhasa's famous cultural and historical sites. Many travelers choose to visit places like Jokhang Temple, Sera Monastery, and Potala Palace before exploring other parts of Tibet. Popular destinations outside Lhasa include Mt. Everest, Mt. Kailash, and Yarlung Valley; regardless of where travelers choose to go they will have opportunities to experience Tibet's natural beauty and learn about it's culture through visiting monasteries and temples! To ensure travelers don't miss any of the festivities, TCTS will schedule a group's itinerary around the festival.
Here is some important information about Ganden Monastery and hope it is helpful for travelers to learn more about Ganden Monastery.
Ganden Monastery, known as Gaden or Gandainor Ganden Namgyeling in Tibetan, it is one of the great three Gelukpa university monasteries of Tibet. Ganden means "joyful" and it is the Tibetan name for Tuṣit which is the heaven where the bodhisattva Maitreya is said to reside. Namgyal Ling means "victorious temple".
Ganden Monastery was founded in the early fourteen hundreds and was traditionally a center of political and administrative power for the local area. Of the three university monasteries in Tibet (the others are Drepung and Sera) it is the furthest away from Lhasa and has typically housed a smaller population of monks.
Planning to visit Tibet during the Ganden Thangka festival is a fantastic way to engage with locals and learn about important aspects of Tibetan culture. Witnessing the unveiling of the massive Thangka amidst the excitement of the crowd is a life changing experience for many! Whether travelers are looking to embark on an in-depth exploration of Tibet or just planning on staying for a few days, TCTS can help travelers create an itinerary focused on their needs and interests. With festival time only a few months away, travelers are advised to plan in advance to get the most out of their experience!
Devin Moore provided this new release on behalf of TCTS, a travel writer and independent economic analyst based in Springfield, Missouri USA. In partnership with local Tibet tour agency TCTS (tibetctrip.com), Devin Moore works to spread awareness of Tibet and its people through publishing Tibet travel information.